"City sidewalks, busy sidewalks.
Dressed in holiday style
In the air
There's a feeling
of Christmas"
What exactly is 'holiday style'? Well, thanks to a generation of men and women who are on the lookout for everything that goes against society, we can now celebrate the era of the 'Ugly Christmas Sweater'. Hipsters are the cause of everything overpriced and overhyped, but ugly sweaters are something we can actually thank them for. While we've all been subjected to an ugly sweater at some point in our lives (sorry, grandma!), over the last few years people have deliberately sought out these sweaters instead of stashing them in the back of the closet where they belong. The ugly Christmas sweater tradition has come into our lives and fortunately, it is here to stay.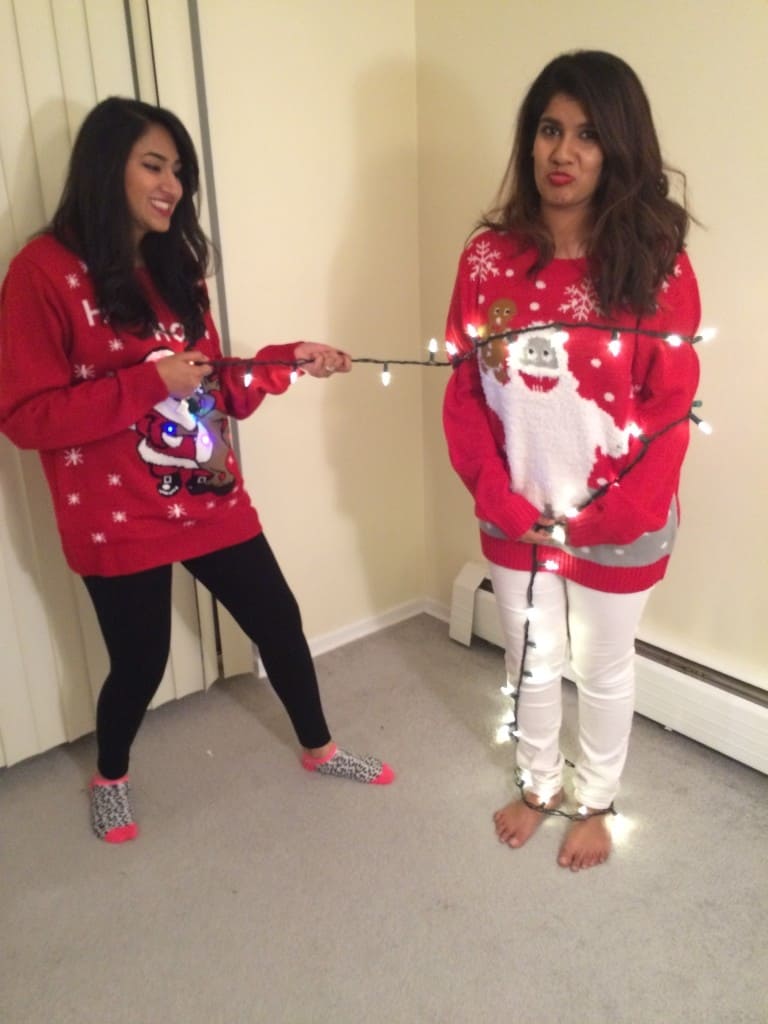 And thus, I have some good news for you, ladies. Tight cocktail dresses are a thing of the past. Despite the effort designers have gone through to introduce a new line of holiday-themed, sequinned ensembles and comfortable high heels (yeah right), looking presentable is one less thing we have to worry about during the holiday season. Because now, it seems that everyone is on board with the ugly Christmas sweater bandwagon. H&M, Urban Outfitters, Etsy, and a search on Amazon can lead you to the most elaborate, over the top designs of some pretty amazing, ugly sweaters.
The phenomenon behind this trend is simple; donning a sweater so visually unpleasing is well, adorable. It takes away from the pressure of having to look 'party-ready,' and the theme brings people together as a happy group of very poorly dressed people. The focus is taken off of your work and school life, and it takes Aunty Em a much longer time to bring up your love life. Instead, questions now sound a lot like "where on Earth did you get that?" to "Did it hurt to put that on?" These questions might have hurt you on an emotional level before — when you wore that sexy red and gold dress you loved so much — but now it can be taken as a compliment.
The trend is also great for those with a competitive edge, who want to express their creativity and come up with outrageous ways to make their ugly sweater just a little more ugly. We have been stuffed animals, ribbons, ornaments, and other Christmas-themed decorations attached to these ensembles. So, there's no longer an embarrassment towards sporting an ugly sweater similar to one you may have been forced to wear as a child to make your grandmother happy. Now, you are no longer a child who is being dictated what to wear and when to go to bed. You are now in a society where everyone is collectively ugly. And that's special. Also, it's warm. (unlike that $250 dress you had in mind)
The only feeling of regret you'll feel at your next Christmas party is not wearing something uglier. Flashing lights on a sweater may seem a little too ridiculous, but Sally over there seems to be rocking it at the drinks table. So the question is, how can you wear an ugly Christmas sweater to its full potential?
Well, the characteristics of a good ugly Christmas sweater, first and foremost, is the colour. You want to wear a colour that screams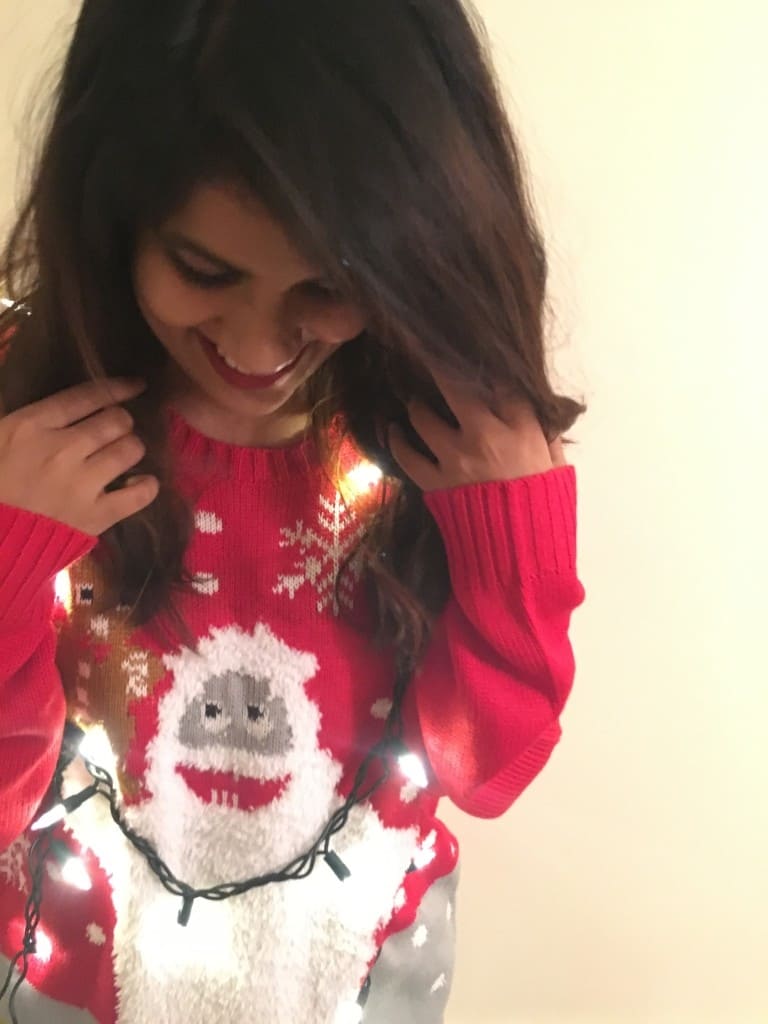 Christmas; red, green, or anything that comes in the form of an ornament. Next, its important to look for a sweater that has elements of winter and the holidays on them. Whether that's a gingerbread man, a reindeer, or Santa Claus himself, your sweater should make people look at it and exclaim, "yes! Just yes."
That's not to say you can't sway from the Christmas theme. Hotline Bling sweaters are wildly popular this year thanks to Drake's dad moves. Essentially, the point retailers are trying to make here is that anything works. Whether you want to splurge $100 on a three dimensional sweater or invest a modest $30 on a simpler piece, the key to owning the ugly in your sweater is to just let it be ugly. Put effort behind your sweater. Throw some nice pants on and touch up your makeup with some matching colour on your lips. Wear your sweater like it's a ball gown. Only then, can you let the sweater be ugly to it's full potential. (Also, it distracts everyone from the bags you've acquired under your eyes instead of under your tree from the holiday stress.)
How-to books are now on bookshelves and on publishing desks, making the ugly Christmas sweater phenomenon that more legitimate. Pinterest has boards on how to make them, your Instagram followers are having photoshoots with them on, your Facebook friends are updating their profile pictures, and other women are currently sitting somewhere on their kitchen table with a hot glue gun. It's really a beautiful thing; unified ugliness.
So, what I'm trying to say is, it's time to throw a Ugly Christmas Sweater party. Tomorrow? The expensive one's don't even itch! Don't forget to send me an invite, my sweater is ready to go. Because whether you agree to it or not, the holiday sweater has become as important as drinking eggnog and "singing" carols by the fireplace. And for that, we are thankful.
Images