Ashley Graham is a goddess.
Seriously, she is drop-dead gorgeous — anyone who says otherwise is blind.
Graham recently graced the cover of the swimsuit issue of Sports Illustrated. Sporting a purple bikini with yellow-stringed ties, she sits on the beach, allowing the water to gently splash over her skin. You may ask, what's controversial about that? It seems standard for any swimsuit edition.
The difference is that Graham is a plus-size model, the first of her kind to grace the pages of Sports Illustrated.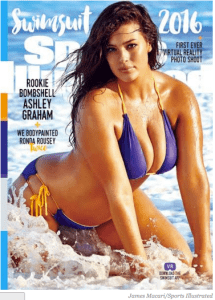 Graham has been featured on the covers of Elle Quebec, London Times, Cover Magazine, Style Magazine, The Edit, and the Shape Issues of Vogue, Harper's Bazaar, Glamour, and Elle UK. She is also quite the entrepreneur, having collaborated with Canadian brand Additionelle on her own line of lingerie. She even appears in her own television advertisements, dressed in her sexy apparel — confident and absolutely seductive.
Despite all of these accomplishments, Graham was still on the receiving end of many body-shaming comments.
My favourite was made by a Facebook group I followed (used to follow I should say) called Bright Side, that said "you decide to get healthy and then see this."
Former Sports Illustrated model Cheryl Tiegs said that Graham's face was beautiful, but the magazine shouldn't be glamorizing full-figured women because her waist was too large. YouTuber Nicole Arbour, whose "Dear Fat People" videos are too shameful to link to in this article, slammed Graham, saying that if she simply worked out she could lose weight. "I want to eat cookies and still be a Sports Illustrated swimsuit model; what's next, you can be a midget and a Rockette? What's wrong with having a physical standard for something?" Arbour said in her video.
It boggled my mind that people didn't see what I did — a beautiful NORMAL sized woman.
Just because a woman is larger, doesn't mean that she is unhealthy or inactive. I would be considered a plus-size woman, despite the fact that today I ate a salad for lunch, did some yoga, and walked to work instead of taking the bus. I know a lot of beautiful women that are on the larger side. They go to the gym on a regular basis, eat healthily, and live a full life.
During her Tedx Talk in May 2015, Graham starts by saying: "You are bold, you are brilliant, and you are beautiful! There is no other woman like you. You are capable. Back fat, I see you popping up over my bra strap, but I'm going to choose to love you."
In the U.S., plus-size is defined as size eight to 16. "Most of the people in this room would be defined as plus-size," she said. "How does that make you feel – to be labelled?"
Graham has worked hard to rid these labels from the fashion industry (which, admittedly, I have used numerous times in this article). She is also the co-founder of ALDA, a modelling agency that "represents beauty beyond size". This group of five women have made strides to break down size stereotypes within the fashion industry and prove that beauty is not just skin deep.
I commend Sports Illustrated for having the courage to stand up and tell the truth: activity does not necessarily equate size, and size does not necessarily equate health. There is no need to pressure regularly sized women to lose weight through extreme dieting. There is no need to encourage women to drink juice for eight weeks or take pills from unqualified doctors on television. Sports Illustrated has come forward as a magazine for active individuals — regardless of whether you are a size zero or a size 16 — and that means that people like me may actually read the magazine.
One final thought: take a look at how gorgeous Graham looked at the Oscars. Does that look like an unhealthy person to you? As she said in her Tedx Talk, "the fashion industry may want to label me as plus-size, but I like to think of me as my-size."
All women should be that confident — and it's time we stopped shaming them for it.
#VanityFair // Dress custom made by @BaoTranchi // 🙌🏽👑💋 #beautybeyondsize pic.twitter.com/62QdewV0Ez

— Ashley Graham (@theashleygraham) 29 February 2016
What did you think of Sports Illustrated's decision? Let us know in the comments below.