As a plus-size woman, I rarely read self-help books. I find them degrading and useless. They make me feel like I'm not good enough. The authors, most of whom are tiny celebrities that can afford personal trainers and in-house chefs, put an emphasis on weight and size. They suggest cutting our carbs, eating only low-fat foods, exercising seven days a week, and attending boot camps to ensure your body is "bikini ready."
For plus-size women, these recommendations can cause anxiety and depression, and 90 per cent of the time result in fast weight loss and even faster gains after the fact.
Big Fit Girl is an exception to that sentiment. This book follows the personal story of author and plus-size athlete and personal trainer Louise Green on their journey towards athleticism. The book is full of body-positive messages and completely dismisses the idea that health is related to a number on a scale.
For example, did you know that about 40 per cent of obese men and women have healthy blood pressure and normal cholesterol? And yet, most of those people are judged by the size of pants they are able to squeeze into.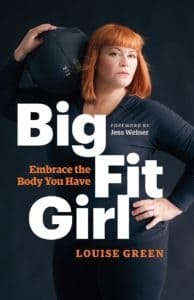 Green runs through how the fitness industry as a whole discriminates against size and fails to meet the specific needs of plus-size women. Athleticism, according to Big Fit Girl, doesn't equate with weight or size. It is something that can be measured by ability, strength, and endurance. In essence — a healthy body doesn't necessarily mean a bikini body and the fitness industry needs to come to that realization.
I've been struggling with my own health journey for a while, and reading this book gave me the inspiration I needed to keep going. It begins by shattering stereotypes and discussing the lack of body diversity in advertising, media, and branding. Green asks her readers to make a number of pledges, including avoiding companies that don't provide options for larger body types and eliminating negative, body shaming messaging.
As encouragement, Green lists the social media information of a number of professional plus-size athletes who, despite their size, have become award-winners in their field. The book is slam-packed with stories and quotes from plus-size athletes, outlining their peaks and valleys, as well as their success.
Big Fit Girl is a wonderful combination of athletic and nutritional advice, motivational success stories, and myth debunking. In between the storytelling, Green includes a number of recipes, simple stretches, her favourite workout playlist, and a training regime for a 5k race.
Green wants her readers to succeed, but not only because she wants them to accomplish their personal goals. Instead, she wants to start a movement: plus-size women have a prerogative to prove to society that they can be healthy and active. The more people that see plus-size women on the racetrack, the more it will be normalized.  "Whether you are an avid walker, a triathlete, a ballroom dancer, or an Olympic weightlifter, or if you aspire to be al these things and more, your presence as a plus-size woman working out in our society is creating a much-needed shift. And because we don't see women of size as much as we need to in advertising, television, movies, or other media, it's up to us – you and me – to inspire others to join our ranks."
Ultimately, this book taught me a number of things, but these three stand out: Don't be afraid of trying something because you think you will be limited by your size. Aim for health and fitness above weight loss and dieting. And practice self love, because you ARE an athlete.
Big Fit Girl will be available in stores on March 18.