Every South Asian knows the childhood struggle of hiding their clothes in the most closeted spaces of their homes to avoid infusing their wardrobe with the aromas of their mom's afternoon curry-cooking session. Not to mention the jokes and humiliation they endured during lunch time in elementary school when opening the lid of their tupperware to release the smell of spices into the air for all their unsuspecting classmates to inhale. The bottom line is, curry has a strong smell, but it tastes good– and it's all South Asians eat.
However, after graduating from grade school and learning how to perfect the ways of avoiding smelling like curry when assimilating into western society, South Asians also put behind the days of ridicule and not so funny jokes. Or so it seemed.
It's safe to assume that a woman by the name of Azealia Banks didn't go to grade school. So, she's using her adult life to make curry jokes aimed at former One Direction member and fellow South Asian, Zayn Malik. That too, through Twitter.
Classy.
However, what Azealia Banks didn't realize is how thick-skinned brown people actually are — and how big Zayn Mailk's fan base actually is. Yes, Zayn Malik may be the "token brown boy" of the entertainment industry, but that's the reason why all of South Asia and every brown woman across the globe is obsessed with the 23-year-old's tanned skin and sharp features.
After an initial Instagram post accusing Malik of copying her style in a new music video, the 24-year-old rapper later called out the Pakistani-British singer, a "Punjab," "dirty bitch," "token brown boy" and "hairy curry scented bitch." This provoked a social media frenzy, influenced by Canadian Youtuber, JusReign. Because unfortunately, these jokes are not new to South Asians. We've endured the same jokes for years. This time, thanks to the power of social media, JusReign took to Twitter to show us how to turn these jokes into compliments.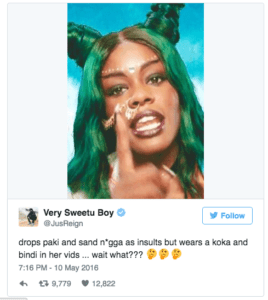 With over a million subscribers on Vine and Facebook, JusReign, who was a recent victim of racism after a very public incident involving his turban at an airport, called out Azealia in a series of Tweets, including a photo of her in an old music video sporting a bindi, which is ironically derived from Indian culture.
Since then, thousands have taken to Instagram and Twitter to post fierce selfies embracing their culture. JusReign not only demonstrated what it means to be Canadian, he also showed the world the power of South Asian beauties. Yes, while millennials may seek any excuse to post selfies nowadays, it is empowering to scroll down my timeline to friends and families rocking their khol and smiling into the camera while Azealia looks into her back up career plan.
She has since then (sort of) apologized for the incident.
https://www.instagram.com/p/BFZ7VslH1QT/?taken-by=azealiabanks
Thanks, Banks.
What your thoughts on #curryscentedbitch? Let us know in the comments below!