I'm very confused.
The United Nations has appointed Wonder Woman, a fictional character, as the honorary ambassador for the empowerment of girls and women. According to a press release, this means she "will be tasked with raising awareness about Goal 5 of the UN Sustainable Development Goals, which seeks to achieve gender equality and empower all women and girls by 2030."
I've always been a big fan of Wonder Woman. There's something incredibly satisfying about seeing an Amazon warrior outperform all of the male superheroes in the Justice League. She is strong, fierce, and completely independent. While other heroes need sidekicks or weapon experts, Diana Price just needs her wits (and maybe her lasso of truth).
But, does that mean I think this fictional superhero, no matter how iconic, should be representing the struggles of women in an international agency — no, it does not.
There are a lot of people fighting for the rights of women and young girls. There are people building schools in under-developed nations, working on gender parity in boardrooms, and fighting for a woman's right to choose. There are those trying to end sex slavery and the forced marriage of young children. And yet, despite all of that, the UN, with the combined wisdom of political leaders from across the world, has chosen an imaginary character as the representative for women. Someone who can't answer questions and doesn't have to be accountable — because it's just easier when they don't' have to deal with a real woman. Am I right gentlemen?
What makes me truly angry is that this whole scenario is likely a marketing stunt. DC Comics will be releasing a Wonder Woman movie next year, which means they will benefit from having the character's photo plastered all over the world. The president of DC Entertainment and Warner Bros. Consumer Products was at the ceremony to support the new partnership and did not seem concerned that the position of ambassador was not given to an actual living-and-breathing human being.
"We believe that in addition to the exemplary work that amazing real women are doing in the fight for gender equality, it is to be commended that the UN understands that stories – even comic book stories and their characters – can inspire, teach and reveal injustices."
I'm all for the power of comic books and stories, but when there are girls who are being banned from attending school, who can't get jobs, and who are being sold for their bodies, is this really the time to get commercial? The world needs results, not an imaginary woman in a glorified metal bathing suit to act as a symbol of empowerment.
I am absolutely disgusted in this decision. If the UN was having trouble coming up with a name for the position of ambassador, they should have asked Women's Post. I have a lengthy list of women who would be better suited for the position than … well, no one.
While the decision to appoint Wonder Woman may have been intended as a symbol of power, all it's done is show how far behind the United Nations is in terms of its goal of gender equality.
If the UN can't think of a single woman who would be capable of empowering other women — then they have already failed.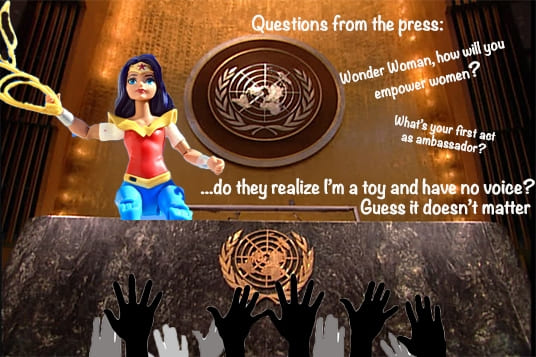 Don't forget to sign up for our newsletter: