It was just starting to get dark as I walked into Seduction, a boutique sex shop. As I weaved through the rows of bustiers and various frilled and laced lingerie, I couldn't help but think "what did I get myself in to." On the third floor of Seduction on Yonge and Wellesly is the Brass Vixens studio, where a group of women were getting changed to participate in a beginner level pole fitness class.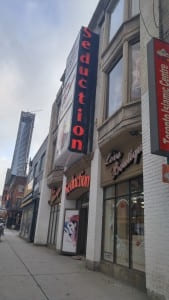 I was about to become one of those women.
Before saying much more, I have to explain something. I'm an introvert — I don't often think of myself as sexy and I certainly wouldn't wear anything that could be found at Seduction. My idea of a workout is going for a run or doing some yoga in my living room. Solitary activities mostly.
I'm also a short, overweight woman with large arms, chubby thighs, and a bit of a tummy. I'm not ashamed of how I'm built, but it did make me a bit self-conscious when I walked into the class and say the other women wearing booty shorts and shirts showing their midriff. (For those interested, I wore tights that went to my ankles and a long, loose sleeveless shirt.)
The studio was dimly lit, with about a dozen metal poles evenly spread throughout the room. Music was lightly playing in the background as our instructor, Lady Kori, walked to the centre of the room. I slowly raised my hands when she asked if there were any newbies to pole fitness, and she smiled when I expressed concern regarding my upper body strength. "Not to worry," she said. "We will do some exercises that will help build that muscle."
The class begins with a few simple stretching exercises and a sexy saunter around the pole. Arms outstretched, we were encouraged to strut on our toes as if in heels (for those of us not quite comfortable enough to already be wearing them). We would switch directions with a squat/dip, pushing out our bums and rounding our hips. Every once in a while she would tell us to drop and spread our legs, flashing our partners. I avoided all eye contact with both my partner and the giant mirror on the wall, which instead of making me feel sexy, made me ever so aware of how foreign those body movements were to me. During one round, Lady Kori said to toss our hair and give our bums a slap. I burst into a giggle fit. Suffice to say, I felt a bit ridiculous — I also may have skipped the slap.
We then moved on to try some spins, which I loved! Something about the speed of the turn was exhilarating. It also felt good to do a move that felt a bit more athletic and not particularly "sexy".  Then, we tried to lift ourselves off the floor. That was a bit more challenging. I would tighten my grip, curl my biceps into the pole, jump …. then sink slowly down to the floor, my hands squeaking against the metal. I felt more like a fireman than a pole dancer.
We then combined all of the moves — the walk, the dip, and the jump. Sultry music played in the background as we whipped our hair, stuck out our hips, and twisted around the pole, sliding up and down as if a we were a bear trying to scratch its back. It may have all felt a little awkward, foreign, and downright weird, but I am proud to say that by the end of the class, I was able to lift myself off the ground for at least a few seconds, spin around the pole, and land in a semi-perfect squat position.
Despite the physical setbacks, it was a fun evening. Lady Kori was an excellent instructor. She would circle around the room and give advice to each person individually.  She knew which muscles were being used and was able to explain exactly how to move your body so that the lifts and spins worked your core and biceps properly.
The one thing I didn't like about the class was that you had to share a pole. You can get quite close to your partner, flashing them during the dips and touching each others hands during the turns. This would be a perfect class to go to with a friend — it would avoid the awkward eye content and nods of approval you felt like giving your partner. The pole sharing also cut into the class time. During jumps and lifts, only one person could use the pole at a time, which meant that an hour class was actually 40 minutes of fitness. When we weren't working the pole, we just stood to the side of the room. It felt like a bit of a waste.
The first-timers were also not told of the fact there were different sizes of poles until the end of the class. Once I tried a thiner pole, I realized how much easier it was to use. I didn't have to stretch my palms to get a grip on the slippery metal.
At the end of the class, a friend of mine texted me: "So, did you feel sexy?" I answered: "no, not really." But, I don't think that was the class' fault. It's hard to make someone "feel sexy" in the span of 60 minutes, especially if they didn't walk into the class feeling that way.
After saying that, the class did make me feel more confident in my skin. It made me feel like it was okay to move sensually — and that I was actually capable of doing it! Who knows? Maybe the next step is to pick up one of those laced bustiers.
…On second thought, maybe not.