Some of my favourite summer memories involve hanging out at the beach, whether it's swimming in the slightly-too-cold water or lounging in the sunshine.
Though I love the beach, I always dread fitting into my bikini at the beginning of the summer season. I think this is a common fear. Nearly every woman has terrifying nightmares of seeing that person next to you at the beach with the seemingly perfect bod', making you feel like a lumpy sack of potatoes. But Women's Post is here to tell you to replace those bad dreams with good ones. Throw that thought out of the window! Every woman deserves to enjoy the beach and feel sexy while soaking in those sunny rays, and you are no exception! Here are five must-haves to create a luscious look that will leave that woman sitting next to you wondering where YOU got your chiffon wrap.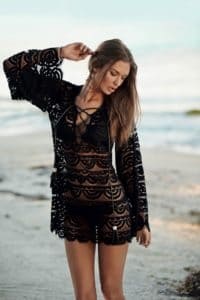 Beach cover-ups and wraps
If you are feeling nervous about wearing a bikini this summer, a beach cover-up is a good way to warm up to showing off your curves. Beach cover-ups come in various sizes and styles. Some cover-ups can be a bit warm in the summer heat, so try a long cover-up that is open in the front. These are almost like long shawls and can come in many styles and colours. A shorter see-through cover-up is my personal favourite. It is alluring, but still gives you a sense of privacy over your body. Wraps are a great option too and can be worn around your waist and used as a towel if needed.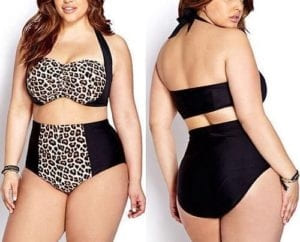 High-waisted Bikini bottoms
High-waisted bottoms are all the rage this summer. This brilliant bikini style is the best possible option for women who want to feel comfortable while still looking fantastic. These bottoms are perfect for women who feel insecure about showing off too much, and allow you to feel more confident with your curves. The increase in comfortability allows women who wouldn't wear a two piece the opportunity to invest in one happily. The pin-up 1950s style, which often has bold patterns and high-waisted bottoms, has just recently came into style again and I love it!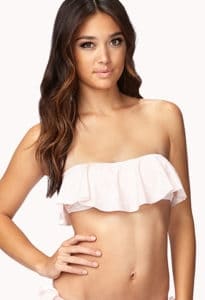 2016 Bikini Tops
Ruffled, off-the-shoulder sleeves was a new style shown at the Swim Fashion Show in Miami this year. The off-the-shoulder ruffled bathing suit top adds an extra flare — flamenco-style element — to a traditional top. Bikini tops can often be boring so these tops add a flounce, which is especially nice if you are just lounging. I am curious to see how the tan lines turn out though.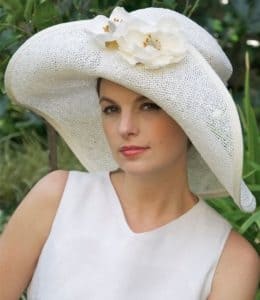 Sexy Sun Hats
Sun hats are not only a snazzy addition to beachwear, but they also keep your scalp from burning. Every woman needs one wide-brimmed hat, whether it dips down or has a firm brim. Hats come in a variety of colours and sizes, and pair well with sunglasses. I like a classic black wide-brimmed hat that dips down. It adds an air of mystery to your outfit and if you wear a bright bikini or beach cover-up, it would be an sexy combination.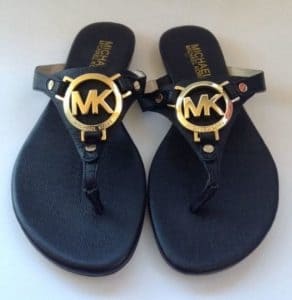 Good Quality Flip-flops
Getting a good quality flip-flop is an investment that could last you several seasons as opposed to just one summer. Black flip flops embossed with a shiny logo helps to make the feet look smaller — something that can be especially appealing if you have larger feet. A nice flip-flop can help you look put-together from head to toe. Flip-flops come in a variety of colours, but neutrals are recommended because colours will wear out quickly on the beach.
Beachwear is a part of summer clothing shopping that can be stressful, but with the right attitude and tools it's easy. Pick out each of these items and assemble them in different combinations throughout the summer and you will have a fresh look every time you hit the beach. If you are still feeling self-conscious, check out #eachbodysready, an international campaign to support every type of woman enjoying their body at the beach. Every woman's body is beautiful, so flaunt it proudly and enjoy soaking in the sun at the same time.