What does it mean to live in the most sustainable city in the world?
Imagine living in a place that has an urban planning agenda that focuses on the environment while maintaining prosperous development and has a booming economy. This type of city places health as a top priority, and offers recreation activities and high-level education.
To be sustainable means to only use as much as can be naturally replaced in order to sustain and maintain this place all people call home. Existing within our means in large cities can have an incredible impact on the planet, and every city needs to make sustainability a priority. Frankfurt is leading the way as the most sustainable city in the world, according to the Sustainable Cities Index. This internationally-recognized index analyzes three key factors when looking at each city: people, planet, and profit. The first measurement tool, people, includes the quality of life for citizens of that particular region, which includes factors like education, green spaces, and health. Focusing on environmental initiatives, planet measures energy emissions, pollution, renewable energy, air pollution and solid waste management. The profit of a city is measured by how well the business economy is doing as well as its economic performance, which is calculated by using GDP and the cost of doing business.
Here are the top five most sustainable cities in the world: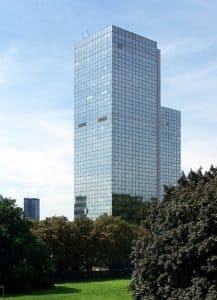 Frankfurt, Germany
Frankfurt was listed as the most sustainable city in the world because of its dedication to sustainability and helping the environment. "Green City Frankfurt", as it is popularly dubbed, has its own energy agency and is the founding member of the Climate Alliance of European Cities created in 1990. The city has committed to lowering CO2 emissions by 10 per cent every five years with a 50 per cent cut by 2050. Currently, the city has lowered CO2 emissions by 15 per cent since 1990, while still growing its economic power 50 per cent. Frankfurt is also home to Germany's largest city forest and is surrounded by a Greenbelt.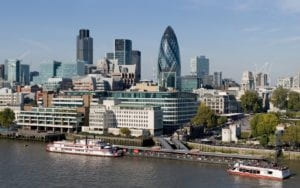 London, England
London falls into second place with high scores on the people and profit measures because of a strong healthcare system and highly-ranked education facilities. The British city is also an international economic center and is the best connected global city alongside New York. The current mayor of London has launched a 2020 vision to make London "the Greatest City on Earth" to become the best city for work, living, investing and doing business. The mayor also set a target to lower carbon emissions by 65 per cent by 2025 from 1990 levels. London isn't a leader in environmental initiatives, but is still a sustainable city when it comes to its strong economy and high quality of life.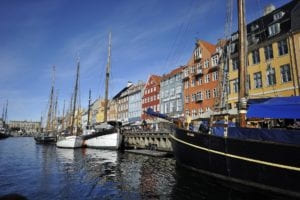 Copenhagen, Denmark
Copenhagen city council has created a climate change plan, similar to Frankfurt and is going a step further by preparing for the future effects of climate change now. The city is developing a plan to catch all of the rainwater in the city because of the lowering precipitation that is expected from climate change. Copenhagen also has green roofs, living walls, and pavements that allow water to percolate through. The quality of living is reportedly high in Copenhagen and the city is booming.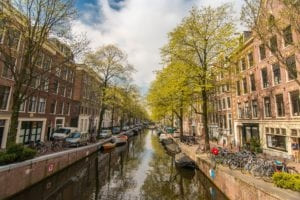 Amsterdam, Netherlands
In Amsterdam, the city takes a leading global role in creating green business. Many enterprises in Amsterdam are creating green products that are being sold worldwide and is also invested in creating highly sustainable buildings in their downtown core. Amsterdam boasts an electric transportation system and is dedicated to using sustainable electricity. It has a goal that by 2020, 92,000 households will be using renewable energy. Amsterdam scored high in all three categories, making it the most balanced city in the world.
Rotterdam, Netherlands
Rotterdam has the highest quality of life for its people out of any city in the world because of its high literacy rate and good work-life balance. The city has also launched green programs, but scores lower in these categories than other cities. The Rotterdam Sustainability Programme is a plan that wants to make a clean and green city, and reduce carbon emissions in half. Rotterdam also claims the world's largest carbon capture program known as the Rotterdam Capture and Storage Demonstration Project (ROAD) that will be stored in an empty gas reservoir in the North Sea. The government committed to spending $31 million towards the green program.
Sustainability is the way of the future if we want to save our planet. Many cities are taking initiative and Europe is definitely leading the way. In October, the United Nations Conference on Housing and Sustainable Urban Development (Habitat III) will bring together cities across the world to discuss how to reach a sustainable standard similar to Frankfurt or London. Toronto is ranked at number 12, and if the city attends Habitat III and adopts new strategies of more sustainable cities, the "six" could climb into the top ten.
In the midst of global distrust due to isolated acts of terrorism in Europe and other parts of the world, Habitat III will be an opportunity for cities to unite and work together towards creating a sustainable and healthy world. I look forward to seeing which concepts and ideas are adopted in Canadian cities and to see positive impacts of global communication for a change.