What has the fashion industry come to? I can sort of understand the distressed-jean look. The frayed-holes-in-the-thighs fad had a little potential in the rock and alternative rock era. But, and as much as I try to review fashion with an open mind,  even I can't get past the newest denim craze — the clear panel mom jeans.
These retro-style high-waist cropped jeans have a clear plastic rectangle around the knee, allowing your friends, family, and strangers to admire that area of the female body that connects our calves to the rest of our legs. Because, apparently, that is cool.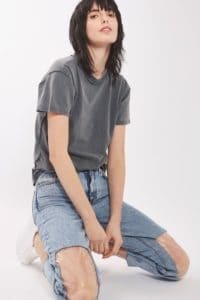 This pant, which was released by Topshop, a British fashion retailer that provides clothing to Nordstrom and Hudson's Bay in Canada, has become an overnight Internet sensation. People are responding with hilarious uses for these "knee windows", such as using them as message boards or using them to avoid those pesky grass stains. A lot of people questioned the fact that these pants can be washed using a washing machine – but what would happen if you accidentally threw it in the dryer? Would your knee windows melt?
How does Topshop see these jeans? This is what it says on their website beneath a photo for these clear-panel creations: "Off-duty styling never looked so good. Crafted from pure cotton, our MOTO mom jeans come in authentic mid blue rigid-look denim. Cut with a high-waist and a tapered leg, they are finished with multiple pockets, classic trims and cool clear knee panel detail."
And you can get them for the low-cost of $95!
I've stared at these pictures for a solid few hours now and I still don't get it. Let's look at the basic facts. The clear panelling disrupts the whole look of the jean. I also imagine they aren't incredibly comfortable. Have you tried to wear something that is made of plastic? It sticks, makes funny sounds when you move, and is not exactly the most pliable of materials. What happens when you sweat? Topshop claims the paneling adds a "futuristic feel" to the pant, but let's be real. In the future, I would hope people would be more creative then plastic knee windows.
If it's meant to be a sexy thing, for people who don't like the look of their calves but want to show off their awesome knees instead, I think it also fails. The knee isn't exactly the most sensual part of the body. Yes, in some cases, it is considered one of the erogenous zones on the body, but it's not going to do much for people simply to look at them, unless you are into that kind of thing.
Ultimately, I think this is an incredible waste of a hundred dollars. As a writer, I wish I had a better word to use than this, but, these jeans are just weird. Hopefully, this is a fad that will come and go. If not…I may have to avoid buying jeans altogether.
Do you like this new look? Let us know in the comments below!