Aboriginal culture is a large part of Canadian heritage and has been a heavily discussed issue in current politics. Canadian aboriginals are often misunderstood, and the true ties to their culture can feel remote and forgotten.
The Heaviness of Things that Float by Jennifer Manuel is a narrative set in coastal B.C that discusses each of these issues in a delicate manner through the eyes of main character, Bernadette Perkal. Bernadette is a nurse stationed for 40 years at a fictional remote native reserve, Tawakin. The novel begins with the disappearance of Chase Charlie, an aboriginal man that Bernadette helped raise when he was a young boy. The community creates a search party and the reader is introduced to the small community of 100 people that live at the reserve.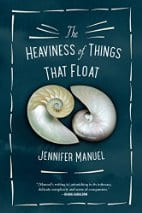 As the story progresses, we learn of Bernadette's love affair with local resident, Frank, and its tragic ending. The reader quickly discovers that Bernadette is retiring and leaving the reserve to live out her remaining days in Duncan, B.C. It also becomes clear that Bernadette feels like she is an outsider and worries that her 40 year commitment to the clan does not matter.
When the new nurse, Wren Weatherstone arrives for training, the separation between the people of reserve and the nurses becomes more pronounced. Bernadette begins to understand the meaning of her privileged upbringing and the historical ties leading up to the distinct separation between different Canadian cultures. Wren also introduces more politicized themes into the novel, mentioning her attendance at a protest in Vancouver for the Idle No More movement.
The Heaviness of Things that Float carefully discusses the assumptions that many Canadians attach to aboriginal culture. Manuel displays a compassionate account of the need to detach aboriginal culture from others to protect it, and emphasizes that coastal aboriginals are not looking for a saviour, but respect. The importance and power of stories is intricately woven into the story and the coastal landscape plays a powerful role in the climax of the novel.
Jennifer Manuel has spent many years invested in coastal Aboriginal culture and gives a very truthful account of her own experiences. She was a treaty archivist and then a teacher for the Ktunaxa, Tahltan and Nuuchah-nulth peoples. Manuel talks about her own novel in the introduction, emphasizing the themes of privilege, and "the nature of belonging, the limits of knowing one another and the stories of arrival that tangle with the stories of contact."
Though Tawakin is a fictional place, Manuel creates a very realistic story for readers and does not give in to a traditional happy ending. The novel becomes heavier as the plot progresses, but the story retains a spiritual acceptance of fate and its consequences. This novel is a great read for any lover of the ocean and coastal aboriginal culture, and it will transport you to a peaceful place where hidden realities lie waiting.