Bringing my daughter to her first music festival seemed like a daunting experience. I stressed over what snacks to bring and what type of sunscreen would be appropriate. Once we were out the door though, our excitement grew as we headed to hear some great music.
Upon entering Field Trip, a music festival that was held at Fort York (250 Fort York Blvd) on June 4-5, we were flooded with the sounds, smells and sights of festival culture. People were milling about everywhere, and there were food trucks bordering the sides of the venue leading to the main stage. We decided the best way to begin our adventure into the festival was to take care of the necessities first; a bathroom break and water.
We headed to the outdoor washrooms and it took a great deal of convincing to get my daughter to go in. I had to tell her it was a spaceship and promise to hold her hand because she was afraid she would fall in. Water was surprisingly difficult to track down at the event, and more H20 areas would be a smart addition to the festival. Once we had our bottles filled, we headed into the circus.
One of the most noticeable and comforting things I noticed right away was the fact that there were several kids wandering about with 30-something hip parents holding ciders. The event created a symbiotic relationship between snotty-nosed three-foot nature lovers and rock n'roll parents who weren't quite ready to give up their love for music. I naturally felt right at home with my little tyke.
We settled in to watch Boy & Bear, a great indie band that played a stellar live show. My daughter was swaying to the music and we pulled out our refreshments to combat against the sun. Disclaimer: Bring fresh fruit. It is refreshing, cool, easy to pack and will provide a good snack. I also brought vegan muffins, but found the baked goods didn't hit the spot in quite the same way as cooling grapes. Bringing a blanket to sit on and a hat for my daughter was also a lifesaver in the heat.
After a couple shows, we hit the kid's zone known as the TD Day Camp. It had a bouncy castle that my daughter loved and ping pong tables. It was a nice break for her from the sun, but I do feel more events could've been offered for the kids. My daughter spent more time rolling down hills than enjoying the activities offered.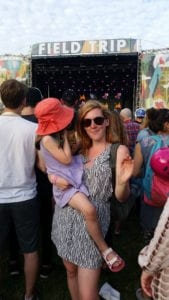 We returned to dance to Santigold, chasing bubbles along the way. Santigold is fronted by lead singer, Santi White, who has a reggae-infused electronic rock feel and a great on-stage presence. She uses props and colourful backgrounds that attracted my daughter's attention wholeheartedly. After Santigold, we had worked up quite an appetite and went on an adventure to find food.
Food is always a dilemma because I am vegan and my daughter is vegetarian — and she also happens to be extremely picky. I'm saying PB & J sandwiches every single day of her life. I was pleasantly surprised with the vegan options at the festival. We managed to find a delicious quinoa salad (of which my daughter refused to try), a Portobello vegan burger (of which my daughter again refused to try) and a grilled cheese for the little lady. Before we had successfully found the grilled cheese, a colossal tantrum ensued over the possibility of having to eat quinoa salad and this resulted in a time-out on the back of a food truck. She had her arms crossed, lip pouting, and people were sufficiently amused.
After eating, my daughter made some friends by playing in what I assume was supposed to be an art piece, but quickly became a jungle gym for the kids. I allowed her to play for a bit (desperately needing a break for a moment) and then we went on our merry way. We received free drinks from David's Tea out of sheer luck because they were closing and we were passing by, and after dousing it with sugar, my daughter was happy to have her herbal tea "juice". Unfortunately, when we were waiting for The National to come on, the drink was crushed by a passerby, resulting in a few quick crocodile tears.
Once The National came on, everyone was happy again. My daughter was getting quite tired so I wrapped her in the blanket, and swayed her in my arms while belting out the lyrics to one of my favourite bands. She actually fell asleep about 10 metres from the stage, which amazed me considering it was a live concert. I knew it was time to pack it in and we headed home, happy and exhausted from our field trip.
Overall, I learned a lot about how to take my daughter to a music festival. Bring headphones to cover their ears. It is imperative for their sensitive hearing and it looks adorable. I also will bring activities for our next venture. Waiting for bands to come on can be tedious and dull for kids and some colouring or a Frisbee can help pass the time. Always bring fresh snacks and a map in case they don't have printed guides available. It also helped that I made a schedule in advance to make the day as smooth as possible.
I loved Field Trip, and its family-friendly vibes. It is a lot of fun to share my love of music with my kid in a safe and fun environment. We will definitely be going next year, and to many more festivals ahead in Summer 2016!