Imagine if you had a neighbour or an acquaintance who had a beautiful healthy dog that was young, vibrant and excited to be alive. Then the next time you hear about the animal, it had been euthanized because the neighbour or acquaintance had moved and didn't want their pet anymore. The dog was not sick and did not have low quality-of-life. Instead, it became inconvenient for the pet owner to continue caring for the dog and euthanization was the easiest option.
The reality is in Canada, there is very little animal welfare protection. There are no laws that prevent pet owners from euthanizing healthy animals due to silly and irresponsible reasons like not having time for the dog, divorce, moving, or behavioural issues. Many veterinarians try to avoid euthanizing animals when there are little ethical grounds, but it isn't prohibited and there is no way to stop it if a vet is willing. Other vets could try to adopt out the animals or give them to rescues, but sometimes it isn't possible and the pets are left in a terrible situation.
"We recently had a beautiful German shepherd surrendered to our shelter. He belonged to a husband and wife who were getting divorced, and neither felt they could care for the dog any longer. The wife asked the husband to euthanize, and he called us in a panic and asked us if we had space," media director at Dog Tales Rescue and Sanctuary, Clare Forndran, says. "Of course we said yes, and since meeting him, we have fallen in love with him though the wife thinks the dog has been euthanized..It is difficult to understand how anyone could euthanize a vibrant dog who has so much life left to live. Our hearts break for the dogs that don't get that opportunity."
Many animals simply don't get this opportunity and there is no legal protection to keep the pets from getting put down needlessly. According to the 2015 Canadian Federation of Humane Societies, 1890 healthy animals were put down that year. This consisted of 759 cats, 39 dogs, and 1092 other animal species. These statistics are fairly limited because the survey is voluntary and no concrete evidence exists on the total amount of healthy animals were put down in Canada. In Ontario, there are few limitations on convenience killing and the Ontario Society for the Prevention of Cruelty to Animals (OSPCA) doesn't advocate for 'no kill' shelters. "We need robust publically supported shelters and much more federal and provincial investment," Executive Director of Animal Justice, a Canadian animal rights law charity, Camille Labchuk says. "There is nothing kind about convenience killing and it should be illegal."
On June 20, 2017, the OSPCA is going to court for a case that involves putting down 21 pitbulls that were involved in a dog fighting ring in Chatam Ont. In 2015, the dogs were seized and subsequently the OSPCA applied to the courts to euthanize the dogs because they deemed them 'unfit for society'. Three animal advocacy organizations, Dog Tales Rescue and Sanctuary, Animal Justice, and Bullies in Need applied to intervene in the case in February 2016 and were later denied in December 2016. The owners of the dogs, who are not being charged of several accounts of animal Cruelty and other criminal charges, have not granted the OSPCA the right to euthanize them and granted the rescues permission to take the dogs for rehabilitation, yet the date of the 21 pitbulls still lies in the hands of the OSPCA and their court application. "Our team is continuing to work around the clock in hopes of saving the lives of these dogs and providing them with a much-needed second chance," Ferndran says. "Our hope is that a positive update will come out of the June 20th court date."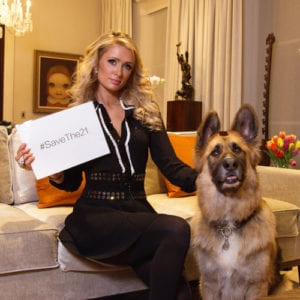 In the meantime, Dog Tales has launched the #savethe21 campaign, which has ignited support worldwide. Celebrities like Paris Hilton and business magnate Richard Branson have showed support to save the dogs from euthanization. If Dog Tales is successful and the dogs are released, they have developed a rehabilitation plan that includes sending the canines down to Florida to the Dogs Playing for Life National Canine Centre for Advanced Behavioral Support. "The court is well aware of the public interest in the case and it has really a chord with people," Labchuk says. "People need to remind the justice system that these dogs were rescued from a horrific dog fighting ring. It is not appropriate to kill them without giving them a fair chance at rehabilitation." People can show support by writing to the CEO of OSPCA, the Ontario government, and posting a photo on twitter with the tag #savethe21 to show support.
It is clear that animals needs stronger legal protection against euthanization. Healthy animals deserve to live fulfilling and happy lives, instead of at the whim of irresponsible pet owners. Euthanizing an animal should only be used in the most dire of circumstances, including illness and low quality-of-life ie. from old age. There should also be more education available to teach potential pet owners of the responsibilities of owning and taking care of an animal to lower the amount of unnecessary euthanization happening in Canada currently. As a country, Canada needs to start promoting better animal welfare protection and become a leader in animal rights advocacy, instead of an international embarrassment when it comes to animal protection.