Camping is the thing to do if you love nature, but learning to do it well takes practice. As a child and teenager, I camped almost every weekend. I remember looking into the campfire as a child and imagining a whole world inside the embers, and spending the days hiking and listening to the birds chirp happily. On the other hand, it does require supplies, and a certain hardiness to really enjoy the experience.
If you don't enjoy building campfires or sleeping on the ground in a sleeping bag, but still yearn for the great outdoors a new alternative has become popular in Ontario. Glamping is the new fad, and it is glamorous indeed. I found several glamping locations in Ontario that offer an experience for those looking to create natural memories in comfort. This type of luxury camping is a form of five-star camping, similar to vacationing at an outdoor hotel in the woods. Glamping includes yurts, eco-tents, eco-cabins, and teepees. Another perk of the glamping experience is the seclusion it offers. Many of the greatest luxury spots in the province are in private locations and allow people to really experience a "get-away".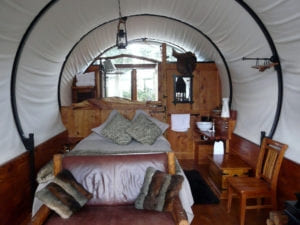 If you are looking for the most deluxe glamping experience in Ontario, Outpost Co. is the ticket. The glamping site is located at Obabika Lake and is $2500 per person for four days and three nights in a deluxe tent area. The campsite is on a hidden lake 90 minutes from Billy Bishop Toronto Islands airport and a chartered plane to the location is included in the price. A private chef is also a part of the deal, and the king size beds have Egyptian cotton sheets. This is definitely glamping in style. The campsite has hiking trails and is in a secluded and natural area.
If you are looking for a safari styled camping option, the Elegant Safari Tents in Carolinian Canada is a beautiful and exotic option. The tents are covered with jute carpets and have oak beds that are 100 years old. The campsite is located on a river, and wooden floating decks are built directly in front of the tent. Fluffy towels, bathrobes and soaps are also provided. This glamping experience is located in the Grand River and is $132 per night. Canoeing is available on the lake and the area is replete with remote hiking trails.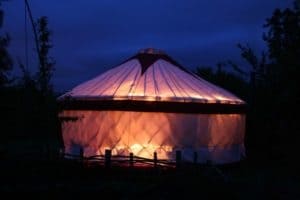 A yurt is a round, semi-permanent housing structure that comes from Central Asia. Yurts are easy to install and take down and can be adapted easily to different climates. Yurts are popular in the glamping world and are set up in advance for the customers.   A pet-friendly yurt is offered near Algonquin Park and has one unit available. The yurt is in Mattawa in northern Ontario and can accommodate up to five guests. Included are linens, the unit is heated and there is a yoga platform outside of the yurt. It is $193 per night.
A yurt is a new way to camp in a tent-like apparatus but it has more flexibility in warm and cold weather. A yurt can be adapted to have open screens all the way around the unit for ultimate cooling and can also be protected from the wind on all sides, creating the ultimate outdoor tent.
If you prefer camping to glamping, there are several spots to rent cheaply and enjoy an authentic nature experience. All you need is a tent, a campfire and the stars to have a good time. Though a comfy bed would be a nice addition to camping, it can be enjoyable to rough it in the bush for a few days. Parks Canada offers several campsites in Ontario that can be booked online and recognize a variety of types of camping in the province. Camping in Ontario also provides private campsites across the province and makes it easy to book a spot too.
Camping in Georgian Bay and Prince Edward County near the beach is recommended because of the beauty of the lakes and beaches. Algonquin Park is a sight to be seen as well because of the immense forest and calm waters for canoeing. Escaping the city and being able to connect with nature in a visceral way is grounding in the warm summer months and camping provides that opportunity. It also helps to breathe fresh air and exercise in a natural environment for a weekend get-away.
Whether it is glamping or camping, getting out into nature for a vacation is the best way to spend your weekends. Instead of keeping the kids indoors, get your family outside to breathe the fresh air. Tell stories over the campfire, and go on a hike. Experience the silence of being away from the city and the sounds of nature in the early morning. Both options have their merits and experiencing nature at its fullest will be unforgettable no matter how it is done.