"I have broken the editorial ice."
This famous quote was spoken by the first Canadian African American female editor, Mary Ann Shadd Cary, in 1853 when she started her anti-slavery newspaper, Provincial Freeman.
The Mackenzie House (82 Bond St.) featured Shadd throughout the month of February for black history month, allowing kids and families to print their own copy of her newspaper as part of the historical tour. A presentation is also offered year-round to school groups on Shadd's life.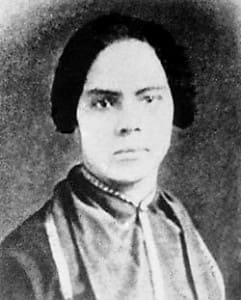 Shadd was born into an activist family in Wilmington, Delaware that helped run the Underground Railroad. They moved to Windsor, Ont. in 1850 after the Fugitive Slave Law — which ordered all slaves returned to their masters and charged those who helped slaves run away — was passed. She opened the first racially-integrated school in Windsor and also created educational booklets about why African Americans should move to Canada for a better life.
Public Officer at the Mackenzie House, Danielle Urquhart said, "Mary Ann had attended a conference in 1851 at St. Lawrence Hall. She was impressed by Toronto. She felt it wasn't as racist and it never had segregated communities. Toronto was also not a border town where you might be caught by slave catchers which made it safer."
In 1853, Shadd founded the Provincial Freeman, Canada's first anti-slavery newspaper and the first newspaper to be run by an African American woman in North America. The byline of the newspaper was "Devoted to antislavery, temperence, and general literature" and she advocated all three topics passionately. The newspaper was a daily digest, which included interest articles, poems, and tips on how to acculturate oneself to the Canadian lifestyle and weather. "She also connected family members because people became separated when they were traveling on the underground railway. You could run an ad and find your family once you arrived," said Urquhart.
When Shadd first released the newspaper, she changed her name to M.A Shadd because she anticipated she would be met with resistance as a female editor. "She received death threats," said Urquhart. "For her personal safety, she brought a friend named S.R Ward to act as a figurehead, but she kept publishing. She remained the editor and when things calmed down, she resumed her public role as the sole publisher."
Urquhart explains that Shadd was not only facing racism as an editor of a newspaper, but also received judgement as a woman in a leadership role in the mid 1800's. Shadd did not back down to though.
In 1856, Shadd married a Toronto barber named Thomas Cary. They had a very progressive relationship and he took on most of the familial duties so that Shadd could follow her dreams. "He would be at home with the kids while she went on lecture tours," said Urquhart. While Shadd was on lecture tours her sister, Amelia Cisco Shadd, who was also a part of the antislavery movement, ran the newspaper.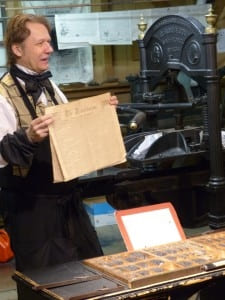 William Lyon Mackenzie, the namesake of the house, was also a publisher at the same time as Sadd and advocated for social justice."They were publishing at the same time and we were equipped to do this with a printing press and she lived in this neighbourhood. We wanted to figure out a way to interpret black history and she was a great choice," said Urquhart.
Sadd was an intelligent and brave woman who was unwilling to compromise herself despite obstacles of race and gender. She became a teacher, a journalist, and went on to get a law degree at age 60. Shadd is a heroine to all women trying to make a difference in this world. She also paved the way for future female African American journalists, as exemplified in when she proclaimed courageously: "Shake off your shackles and come to Canada."