Technology is the future—and women should be a part of it.
That was the message driven into my brain by Melissa Sariffodeen, 27, the co-executive director of Ladies Learning Code, when we spoke on the phone one Wednesday morning. She had just returned from a 20-hour road trip with the soon-to-be-famous code mobile, a truck whose purpose will eventually be to travel across Canada teaching young kids how to use HTML, CSS, JavaScript, and much more.
Ladies Learning Code is a not-for-profit organization whose mission is to provide women and youth with the resources they need to learn programming and technological skills. Their ultimate goal is to teach 200,000 Canadian women and youth to code by 2020. They do this through a series of workshops tailored to women, young girls, and kids between the ages of eight and 13. The organization itself was founded by in 2011 by four women who wanted to teach themselves to code. Sariffodeen was one of these four women.
"The organization was started largely in self-interest in this problem that we had and this idea that we wanted to learn to code," she said. "I never thought it would catch on so much, but I think that's so telling of the need. When we started out, we wanted to do it. We just didn't realize there were thousands of other people who wanted to as well."
Now, four years later, the organization operates in 23 cities across Canada. Their latest campaign includes a truck, or a mobile computer lab, that will be driven across the country. We asked Sariffodeen about this newest initiative and why it's so important to teach young kids, in particular young girls, how to code.
Q: Why a truck?
I went on a road trip a couple of years ago and I drove to Montana from Toronto and back. I thought 'Wow, wouldn't it be so cool if ladies learning code did this?' I think I tweeted about that idea and started speaking with partners and sponsors and spent two years trying to make this happen. Finally, the stars aligned.
One of the big barriers to a lot of the things we do for youth is that not everyone has access to technology, there aren't readily available computer labs or a laptop that's easy to access. So, how can we make it easier for them? By having a truck—it's a travelling computer lab. It would be easy for us to bring our technology and our program to communities across the country.
How would it work?
We are running this crowd-funding campaign right now and as part of that you can make donations to guarantee that we come visit you, and then the trip will be planned in a couple ways. So, one of them will just be the surrounding areas of the community we are in. We will go to Montreal and we will visit communities within a 200 km radius. We will pick the major cities we are in as base camps and then visit the surrounding areas. Then, we will combine that with requests for visits. So people have been requesting visits already, whether its through our Indiegogo campaign, or if its just through the form in general, we will bring that information together and that's how we will plan our route.
Have you gotten many requests?
I would say we have 40 to 50 requests so far. It's going to be challenging to pick where we can do, because we can only do so many stops during the summer. But, that's the idea. Request the truck to come to your community, and maybe we won't come specifically to your summer camp but maybe we will pop up in your local parking lot and you can come and visit us that way.
What's inside the truck?
The idea is that inside the truck there may be room for a couple of people to learn to code, but it will mostly be storage of our pop-up lab. We want to make sure we can teach a lot of kids, or at least a reasonable amount of kids, at a time. The truck actually pops out with a massive tent with tables, chairs, and laptops. We have the capacity to teach about 40 kids at a time out of the truck.
You have 12 days left in the campaign at the time of this interview. Do you think you will reach your funding goal?
I hope so! I think we have a few big pushes left, and I think as we start to get closer the community will rally to support us. They have been so generous so far, and I think we can pick up some momentum even in the last couple of days. Fingers crossed.
Why is it important to get out there and teach young people—young girls in particular—to do stuff like code and use HTML?
Technology isn't going anywhere, and we think it's really important that we equip kids with the skills they need to thrive in the future. It's the same way we teach math or social sciences. It's not so we have a bunch of mathematicians or social scientists. It's because we want kids to have a basic understanding of how the world works. And since technology is such a critical part of the world, it just makes sense that they know a little bit about how this stuff works.
And the reason why we want more girls specifically, is that right now the technology we use is largely built by men. If we can start to have more women create it, the idea is that you have this more diverse perspective in technology. A lot of problems that are more unique to women could be solved by women. Technology could speak more to the population using it if it's built by a population that is representative.
What has been the response from the young girls you have taught so far?
We have lots of stories about people who have gone on to take computer science in high school. We had one girl specifically who scored the highest score in her advanced placement on her computer science exam and is now going to university. We have another story about a young girl who started a company at 11 after being inspired at one of our programs. The response so far has been very positive in the demographic we are teaching—8-13 year old girls—but they are still young and they are just starting to enter high school or graduate high school so, that's an exciting thing. We will start to see over the next couple of years the impact that our programming is having and that shift that will hopefully happen—I'm optimistic—in technology.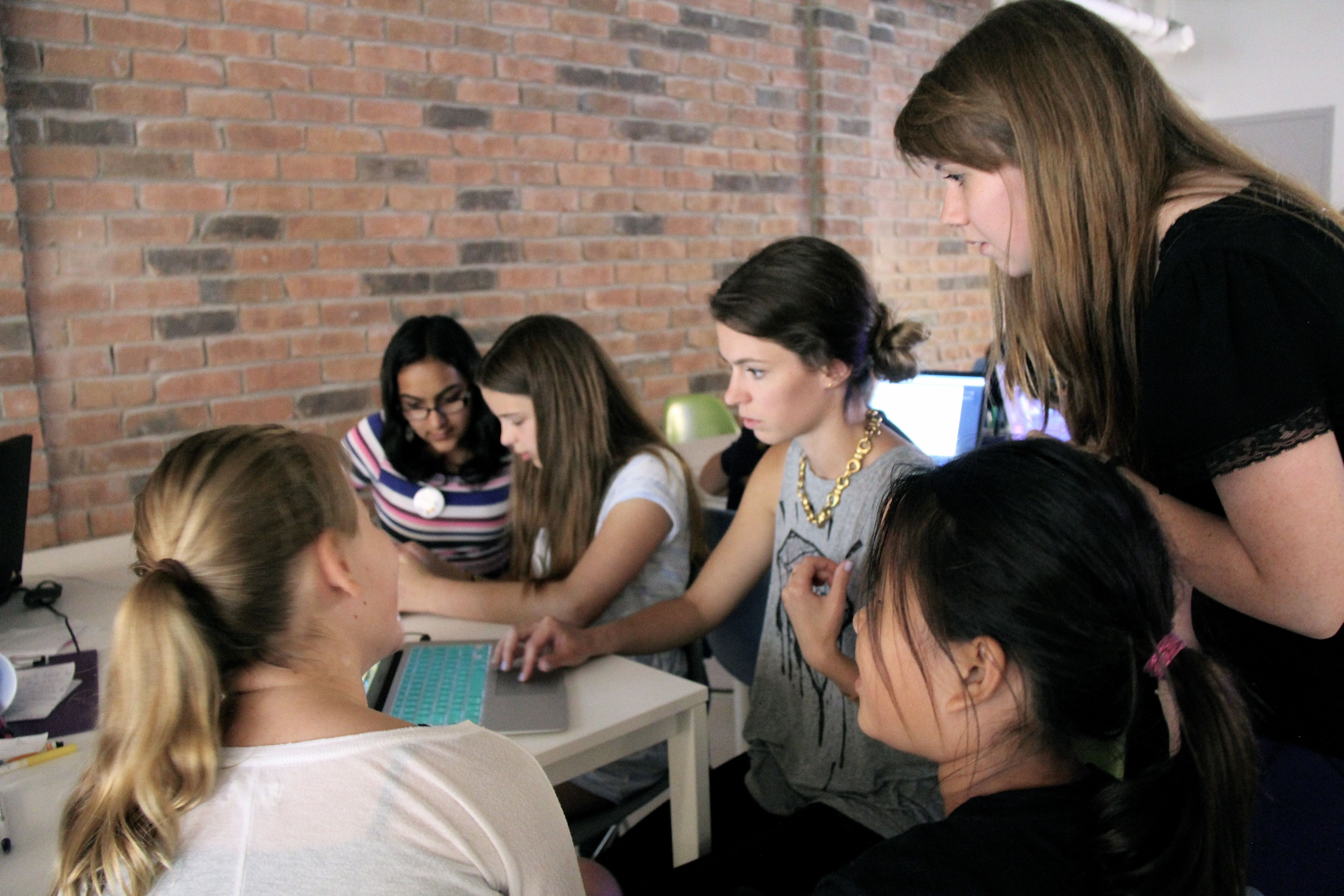 What are some of the things you are teaching these young girls?
We teach so much stuff, from basic HTML and CSS, web languages which are our most popular languages because, I think, they are the most accessible. They are written in pretty standard English. But for youth and adults we also teach other languages like Ruby and Python and Javascript. We have app creating programs for youth coming up. And then we also do technical skills. So, how do you edit photos? How do you create digital art? (The basics of) 3d printing and robotics.
Once the crowd-funding campaign is done, what's next for Ladies Learning Code?
Figuring out this trip I guess! The code mobile was a really big initiative for next year, but we also want to layer in a set of resources we can leave in these communities. So, taking the programs we've run over the last few years and packaging them in a nice and compelling way. That way, when we go to this nice rural community in BC, we can make sure we leave them with enough that they can keep learning this stuff on their own, at their schools, or in their community centres.
To request a visit by the code mobile, click here.
To contribute to their campaign, visit their Indiegogo site.
*This interview has been condensed for publication.