When switching over your wardrobe from party outfits and sweats with your university logo, learning how to dress as a career woman can be a challenge. Luckily the days of shoulder pads and boring suits are in the past, and it is possible to look fun and professional. Here are five ways to fill your closet with workwear that is not drab, but fab.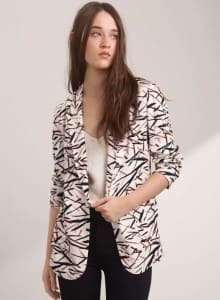 1.Bold and beautiful blazer and shirt combos
Finding a blazer that fits can be difficult, but it is a staple for a stellar work wardrobe. Having a few different types of blazers can be exactly what you need to pull an outfit together. If you are a blazer virgin, try purchasing one solid colour and one patterned jacket. Having both blazers will allow you to compliment a bold top with a conservative blazer or spice up an otherwise dull outfit choice. Remember to never pair a patterned blazer with a bold shirt or the outfit will become overwhelming. Subtlety is key in workwear.
2. A button up shirt
A button-up shirt or blouse is a great addition to a work wardrobe because it adds class and style to an outfit. My personal preference is a sheer button-up top with a nice shirt underneath. This adds a classy, yet fun asset to your wardrobe without being too provocative. When a button-up shirt is fitted, it can be quite shapely. Make sure to include plain button-up shirts and snazzy blouses, even including a short sleeve button-up shirt in the mix for a hotter summer day.
3. Comfortable flared slacks
One of the many fashion staples from the 1970's are comfortable slacks. If you can find a pair of great flared slacks, buy them immediately. If they have a bold print, again buy them immediately. They are comfortable, loose, yet fitting trousers and often have bold patterns that make you feel like a beautiful diva transported from another era. These slacks also allow you to dress fairly simply in the rest of your outfit. You can wear solid, but complimentary colours and the pants will do the rest of the work.
4. Variety of shoes  
A variety of shoes will help you make a stellar work outfit. Make sure to have a low heel for comfort, a fancy shoe for outings and events, and a nice flat for those lazy days. It will spice any outfit up and make you feel confident and great at your job. Avoid open-toed shoes and heels that are too high. Making a subtle heel count is the trick, and if you are short, it also brings you up to the height of your colleagues, which is a bonus.
5. Bold Accessories
Bold accessories are an easy and inexpensive way to compliment work attire. Options include a necklace, earrings, a pin, or classic bracelet. I prefer bold jewelry such as a stone necklace paired with a simple blouse. It is striking to dress in a classy white outfit and then have a bright necklace bringing the outfit together. Bright scarves are also fun and keep the neck warm on chilly days. Accessories add an air of elegance and effort to a work outfit and will make you feel glamorous in whatever career path you choose.
Do you have any tips for great workwear? Let us know in the comments below!