Bikram, Anusara, and Vinyasha are all familiar practices for those who do yoga. However, the tree pose, whether it's in a 20 degree or 45 degree studio, may become a little mundane the 45th time around. But did you know about the other types of yoga out there?  If you're looking to spice up your sun salutations or challenge your overall yoga routine, try out some of these less conventional classes: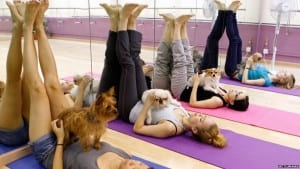 1. Doga
There's downward facing dog. And then there's downward facing dog – with your dog. Your furry pal gets stressed too, you know! So the next time you're on the mat, pick up your dog. Your biceps will thank you, and so will your he/she. The practice involves simple yoga poses with variations to include your partner in the action. We're pretty sure you can skip the walk that day. Visit dogadog.com to find out more!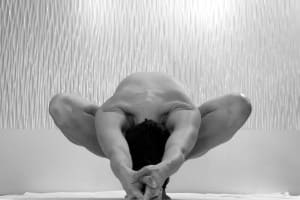 2. Nude Yoga 
You've probably thought about doing this in your hot yoga classes. Lululemon's sheer yoga pants are definitely not a problem at the Bold & Naked Yoga studio in New York. They live by the not "following the norm but rather playing outside of the box, because that's where the fun is." The studio offers both male only and co-ed classes (sorry, ladies!). But don't worry, because these completely nude Vinyasa yoga classes emphasize that the classes aren't meant to be sexual in any way. We can't guarantee it won't be hot in there though…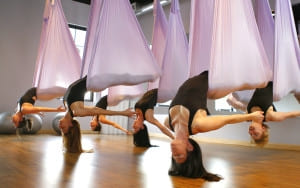 3. Aerial Yoga 
One of the more popular forms of yoga that has recently hit the fitness scene, aerial yoga is no fad. Hanging from silk hammocks suspended from the ceiling (also known as anti-gravity yoga) takes your practice off the mat and instead floating above ground. There's something oddly comforting hanging upside down in the air. You'll feel like an Olympian, and eventually look like one too. If getting inverted and the fear of falling out of a hammock don't bother you, you will love this class.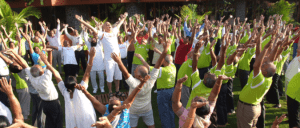 4. Laughter Yoga 
If you haven't heard of the above, you've heard of this. Especially popular in South Asia and amoung senior citizens, a laughter yoga session "strives to cultivate childlike playfulness." Exercises include clapping while reciting a chant similar to laughing, speaking gibberish, deep breathing exercises, and/or playful pantomime exercises. You can finally have an excuse to practice your "milkshake laughter," which is laughing while you pretend to mix and drink a milkshake. Because why not? Some classes even include laughter meditation, light physical exercises, and dancing. The idea of a laughter yoga class might make have you laughing already, but believe it or not – laughter can lower stress hormone levels. Haha!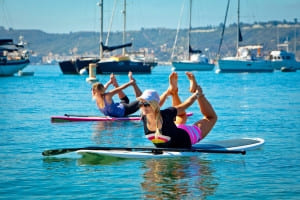 5. Stand Up Paddle Yoga
It's a class that combines yoga and stand up paddle surfing. Popular among yogis on social media due to its scenic photography opportunities, paddle yoga allows you to really become one with nature by paddling out onto the water on a paddle board to do poses like the the bow pose, the downward-facing dog, and the camel pose. Core strength is key doing this type of yoga. You get more of a workout because the motion of the water makes you engage your core as you try to stay stable. And with summer here, a yoga session afloat a surfboard feels like a pretty "narly" option.
Not so calm now, are we? Get zen in a way you've never gotten before with these yoga classes. Chances are, your friends and family will never look at the fitness regime as 'boring' again!
featured image