Building a home takes time and effort, a considerable issue considering North America is experiencing an affordable housing crisis. But, a non-profit in Columbus, Ohio might've discovered a possible solution— shipping containers.
Cargominium, as the project has been dubbed, is a three storey-building made out of shipping containers that is being constructed by non-profit Nothing into Something Real Estate. The housing development is being built as affordable housing and will include 25 apartments.
The building consists of fifty-four shipping containers that are stacked together. Each apartment has two bedrooms and will be accessible from an exterior stairways. Before the containers were shipped to Columbus, windows and doors were cut into the steel and then, upon arrival, the containers are placed on top of each other on site. The containers will have stucco siding to make it look like a regular apartment complex and the steel container will be well hidden once complete.
Shipping containers as homes are growing in popularity because they are cheaper to use than lumber or other building materials. They are durable, versatile and are upcycled, a process that takes used products and creates products of better quality for environmental use. Deforestation from housing development is a crucial environmental problem and using shipping containers saves wood, and other building materials used in framing houses. Building with shipping containers comes with its own set of issues, including the difficulty of getting the container up to building code in regards to insulation and air circulation. But, the perks tend to outweigh those complications. For example, the flat roofs can easily be used for a green roof garden and solar panels. This gives an added environmental bonus and possible energy reproduction to the shipping container homes.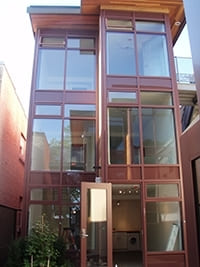 Canadian companies are jumping on board as well, providing shipping container options for affordable housing in Vancouver and other clients in Western Canada. Edmonton-based company, Honomobo, builds prefabricated affordable housing shipping container homes and has received more than 12,000 inquiries from 74 countries for more homes. The Atira Women's Resource Society in Vancouver also built a successful affordable multi-dwelling affordable housing development known as Oneesan, for vulnerable women aged 55 and over in 2013.
Private homeowners are also hopping on the trend, with local restaurant owner, Carl Cassell, recently using a shipping container to extend his Queen St. home. Development Company, Wonder Inc, is another Hamilton-based company designing and building a house completely made of shipping containers for writer and broadcaster, Geoffrey Young who has worked on international developments and has a passion for urban design and sustainability.
Shipping containers are not a permanent solution to affordable housing, but they are a good temporary one. They can be built quickly and provide immediate shelter for people who are desperate to find a home. However, municipalities that use shipping containers as a form of affordable housing must not rely on them as long-lasting, but using this building material will give city officials more time to find a better solution. Creative resolutions are the best way to solve the affordable housing crisis, and shipping containers are an inspiring start.