Women are dominating at the Olympics in Rio, having won eight medals so far. The Canadian men have yet to take home a medal at all (although Canada is rooting for you!). Five medals were achieved in swimming, one medal in synchronized diving, one medal in lightweight double skulls, and the women's rugby team took home a bronze. Clearly, Canadian female athletes are a force to be reckoned with and the best part is that the Games aren't over with. There are still a number of key opportunities for even more Canadian women to bring home medals.
Here is the rundown.
Winners:
Canadian women came out strong in swimming, but there is one woman that is proving to be one of the next great Canadian athletes. Penny Oleksiak,16, won Canada's first gold medal this year and is bringing a total of four medals home so far from these Olympics. She tied with U.S swimmer, Simone Manuel for gold in the women's 100m freestyle swim, making her the first Canadian female swimmer to win gold since 1984 in Los Angeles. Oleksiak also obtained silver in the women's 100m Butterfly and led the women's 4x100m freestyle relay team to a bronze.  Oleksiak is from Toronto, and was joined on the podium by teammates Katherine Savard of Montreal, Brittany MacLean of Mississauga, and Taylor Ruck of Kelowna. Kylie Masse, 20, from LaSalle also won a bronze medal in women's 100m backstroke.
Diving in a not-so-green pool on Tuesday, two Canadian divers took home a bronze medal. Hailing from Laval, Meaghan Benfeito, 27, and Roseline Filon, 29, won bronze at women's synchronized 10m platform. The pair also won bronze at the 2012 London Olympics. They have been diving together for 11 years, and cited their friendship as a part of the reason for their success. Both women demonstrated Canadian pride upon winning their medal, and their humble appreciation for each other reflected the respect and vitality of the Canadian athletic spirit.
Women's rugby wowed Canadian Olympic fans.. The sevens team took home bronze, beating Great Britain in the final match 33-10 and following New Zealand for Silver and Australia for gold. Canada's women's rugby team has dominated the summer Olympics, taking home a medal in every sevens event since its inception. Captain Jen Kish, 27, of Ottawa led her team to victory, along with other strong players Karen Paquin, 29, from Quebec City, Ghislaine Landry, 28, from Toornto, Bianca Farella, 24, of Montreal and Kelly Russell,29, from Bolton who all scored in the final game.
Women also came out on top in rowing, with two Canadian women taking home silver in women's lightweight double sculls. Both hailing from Victoria, Lindsay Jennerich, 34, from Victoria and Patricia Obee, 24, showed off their impressive abilities to finish quickly. Coming into the 1000 metre mark, it looked as if they weren't in for a metal, but entering the final 500m they pushed forward into second place.
More to come: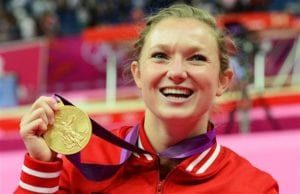 Rosie MacLennan, Trampoline
The women domination of the Rio Olympics is not expected to slow down either, with more female athletes potentially winning medals over the next 10 days. Trampoline gold-medalist Rosie MacLennan, 27, hailing from Toronto was the only Canadian to obtain a gold in London, and there is a high expectation that another medal is in her future. MacLennan also dominated at the Pan American games in 2011 and 2015, and has won at the world championships. She was the flag-bearer for Canada at the Rio Olympics and big things are expected of her in today's women's trampoline event.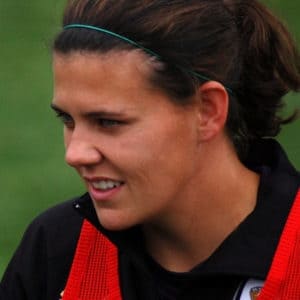 Christine Sinclair, Soccer
The women's soccer team recently beat Australia in the tournament and has garnered a change to play for a medal.  Quarter-finals against France is on Friday, August 12 at 6 p.m. Soccer star and captain of the national team Christine Sinclair, 33, from Burnaby is hopefully leading the women's team to another medal. Sinclair is an Olympic bronze medalist and has competed in three Olympics. Sinclair has scored in both of Canada's victories so far in Rio and fans are avidly watching which moves she pulls next in the quarter-finals.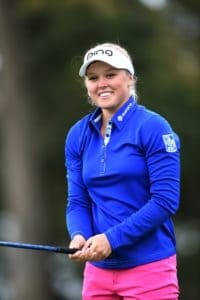 Brooke Henderson, Golf
The Canadian professional golfer on the LPGA tour, Brooke Henderson, 18, from Smiths Falls has been dubbed the one to watch at the Olympics this year. Henderson is one of the best female golfers in the world and has been a professional since she was 14. She won the 2016 KPMG Women's PGA Championship, which made her the first Canadian woman to win a golf major since 1968. The sport was removed from the Olympic roster in 1904, and this is the first time golfers have had a chance to compete on this international stage since. Henderson will compete on August 17, and will hopefully bring home another gold medal for Canadian golf in the Olympics.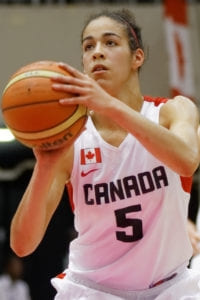 Kia Nurse, Basketball
The women's basketball team will compete on August 12 against the United States, followed by Spain on August 14. They have won every game they have played so far against China, Serbia, and Senegal. Kia Nurse, 20, from Hamilton is the player to watch and is the top pick for the talent pool of the basketball team this year.  Nurse has previously helped her team win the 2015 Pan American Games and was also the MVP for the 2015 FIBA Americas Women's Championship. Nurse comes from a strongly athletic family, with father Richard Nurse previously playing in the CFL, and mother Cathy Nurse played basketball at McMaster. Nurse's brother Darnell Nurse currently plays for the Edmonton Oilers and her older sister, Tamika plays Basketball for Oregon.
The Fab Four, Divers
Four divers in Montreal spend hours together in the pool and have become Canadian athletic icons. Benfeito, and Roseline Filion have already won bronze in the synchronized 10m dive. The other two contenders of the "Fab IV" on the Canadian diving team are Jennifer Abel, 24, from Montreal and Pamela Ware, 23, of Longueil. Abel and Ware missed a medal by one point at the Aug. 7 in competition, but still have another shot at winning in individuals coming up. The women's 3m individual synchro final on Aug. 14.
Women are leading the way for Canada and it is exciting to see them continue to win more medals in Rio. By tuning in and showing support for these hard-working athletes, it demonstrates solidarity and passion towards Canadian women dreaming of being on that podium. I wonder, who will win next?