The Ontario election is just days away and with so much up in the air there seems to be a vacuum when it comes to smart government leadership. Moderate voters looking for balanced leadership are wondering who to vote for.
 As I sit on the GO train heading back to Toronto, I'm reminded of all the transit work the Liberal government has done over the past decade. As a transit advocate I know that they did their best to build as much as possible. But Wynne let a lot of people down in Toronto when she refused to approve the tolls Mayor Tory's council asked for.  Tolls that would have been dedicated to funding transit expansion and relieving some of the enormous debt burdening our province.
I spent the weekend carefully analysing all the platforms –  and the quality of the party leaders. My experience as a candidate opened my eyes to the control and power the leader has over the rest of the party. Don't be fooled by those who suggest you can avoid the leader and vote for the local candidate – the leader has total control over what the party does in government.
As a long-time Liberal I was surprised to hear Wynne give a concession speech this weekend, and I wondered why she wasn't fighting to the very end. I have to admit that she pushed me to look outside the party for other options.
Who can moderate liberals realistically vote for?
After checking the positions each party put forward I have to admit that I was impressed with the support of the relief line that the NDP have touted as well as the huge list of all the other transit they plan to support. But read through the entire platform and their ability to pay for all the items comes into question. There are literally hundreds of special initiatives the NDP promises to make, as if trying to give each and every voter something. With promises so extensive, delivering on them would be impossible, and the level of debt it could bring on is worrisome.  I admire Andrea Horwath. Her character and contribution to this province is without question, but I worry over the lack of fiscal accountability the NDP platform reflects.
Looking over the Conservative platform I also see a lot of promises without any clear explanation for funding them.  Add to this Ford's suggestion of selling the Greenbelt – which could devalue house prices across the GTHA – with his retraction of this policy, and it's obvious he has little understanding of economic forces.  Doug Ford has a somewhat shady history – who can forget the ease at which he lied publicly about his brother never touching drugs? He lacks integrity, and I worry he'll make backroom deals that would threaten the open and just system of balanced government we have achieved in the last decade.
By chance I found a printed copy of the Green Party 2018 election platform left on a bench at the Burlington GO train station. I read through every page and found it both a smart and a balanced platform that doesn't over promise, and has a clear and concise explanation of how their initiatives would be paid for.
The Greens are the only party openly willing to consider using tolls or congestion charges to create dedicated transit funding. As well, Green Party leader Mike Schreiner told me that the relief line is their top Toronto priority.  I've known Schreiner for years. He's consistent, steady, smart and dedicated.  Just the sort of leader Ontario so desperately needs. Anyone who has done their research will note that the Green party also has some of the best local community candidates in the province.
The Green party platform points out the serious transit issues that commuters have, with the average daily commute in the GTHA sitting at 80 minutes (equivalent to eight 40-hour work weeks each year).  Gridlock costs the economy $11.5 billion in lost productivity and congestion delays in trucking cost Canada $650 million per year.  The Greens plan to invest $1 to $1.5 billion per year and fund 50% of the operating costs of municipal transit systems – which would be a huge relief on our local municipalities – and they plan to pay for it all by implementing revenue tools such as congestion charges, parking levies and land value taxes, which will raise over $3.9 billion per year.
With so many people wondering who to vote for in this election I'm guessing the Green party may well get a surge of support – if they can get their platform out to voters in time. Their 2018 platform is one of the best I've evaluated. They will provide grants and interest-free loans to help homeowners, renters and businesses invest in energy conservation. And even better, they will pay for it by closing the Pickering Nuclear station and replacing it with the much lower cost of water power from Quebec which will save $1.1 billion per year!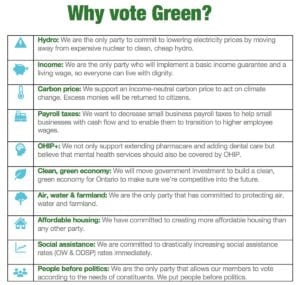 Ontario needs smart leadership and the vast majority in the middle need a party that can represent them. The Green party has put forward a well-balanced platform, they have a reliable smart leader in Mike Schreiner, and when combined with the excellent local candidates (52% are women) representing them, they are an excellent option for those in the middle who want an open and balanced government.  
Liberals have lost their chance of winning and the only hope for moderate voters is to go Green. It is time for Ontario residents to stop thinking that the Green Party will never get elected and start thinking about what Ontario could achieve if they did.