Can't take time off work to go on vacation? Plan a day-cation to Hamilton, Ontario. With only a couple of hours away from Toronto, you can go on the road trip you desired– without all the pit-stops. Whether you want to immerse yourself in the beauty of mother nature or just get away from the hustle and bustle of city life, Hamilton has various peaks and creeks for you to enjoy.  The best part? It's free! You're welcome, folks.
Devil's Punch Bowl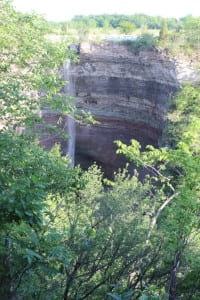 It's easy to see where this falls gets its name from. The 37 meter waterfall has been a attraction to many tourists, and has even made a movie appearance in the 2005 horror film, Silent Hill. With many haunting stories as well as its unique details, this punch bowl will certainly quench the thirst of your inner geologist and paranormal enthusiast.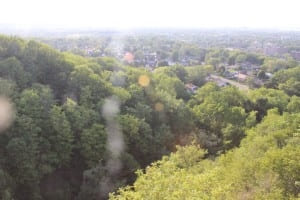 Steps away from the Bowl is a breathtaking lookout of Hamilton, where you can enjoy a panoramic view of the city's gems, including Hamilton Harbour, Lake Ontario, and Stoney Creek Castle. (Quick tip: End your day at the lookout to enjoy the sunset with your loved ones!) The beautiful scenery, the convenient benches, and the calm ambiance creates the perfect atmosphere for a little down time.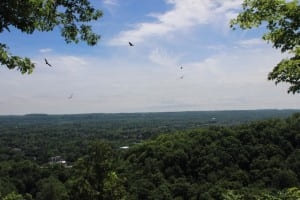 Albion Falls
Looking for an adrenaline rush? Albion Falls is the place to go! Whether you choose to stand on the top of the falls and feel the current moving under your feet or you want to admire the water falling from down below, this popular tourist attraction will have you feeling on the edge of glory.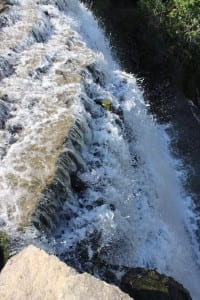 The steps to climb up the falls is nature's way of inviting you to come and realize the true meaning behind TLC's "Don't Go Chasing Waterfalls." It's not everyday you have the opportunity to sit near a waterfall, let alone in between it. It's a great location for bloggers, photographers, and couples looking for engagement or wedding photos. Besides, the sound of the water, the coolness of its splashes, and the overall beauty of it will make anyone forget all their worldly thoughts. Did you get finish that project you were working on? Who knows!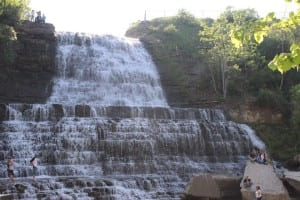 Tew's Falls
Simple and refined is one way to describe Tew's Falls. Hamilton's highest waterfall. Unlike Albion Falls, however, this waterfall requires a bit of a hike to reach the bottom. You can choose to skip the hike and take in the pleasure from afar but like most nature enthusiasts, a walk through some greenery never really feels like 'exercise'.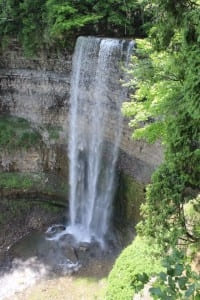 Not tired yet? Another 20 minute walk away is a gem called Dundas Peak. On your way to the peak, keep on the lookout for scenes such as this one. Yes, there are eagles (at least that's what we thought they were) in Canada. Who would've known! Their majestic soars through the sky will leave you wanting a little bit more…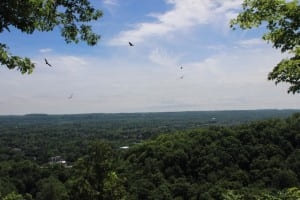 A little bit more is exactly what you'll get. Dundas Peak provides a stunning view of the city beneath you. Filled with lush greenery, this scenery is worth the hike. Take a seat, catch your breathe, and take in nature's beauty. Just don't be afraid to look down!
Have fun and don't forget to let us know how your trip went by tweeting us @womenspost!