Most women dream about being a bride and getting married, but I've always hoped to be asked to be a maid of honour. It is flattering to know that one of your girlfriends adores you so much they would be willing to have you stand by their side during one of the most memorable moments of their lives.
My dream came true when a long-time friend asked me through a hilarious Ryan Gosling meme: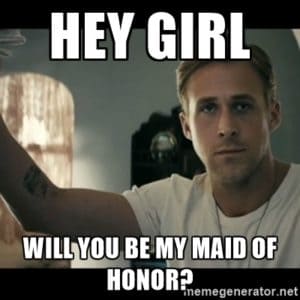 I responded by calling her on the phone, crying tears of happiness.  Now that the initial buzz has worn off, I'm ready to do the best job possible for my bride.
Being a great maid of honour takes work. You have to be attentive and available for a variety of tasks and traditions that are important and memorable. The first and foremost job of a maid of honour is to be there for moral support. Frankly, many men are not interested in planning their weddings and even though I am classified as a tomboy oftentimes, I love looking through beautiful dresses. When the day approaches, being available for those stressful moments and last minute cancellations is essential and can make all the difference between a great maid of honour and a flop.
Attending appointments with the bride is important. Between trying on gowns and helping pick out flowers, if your bride wants you there, it is essential to prioritize your schedule. Each bride will have her own idea of which appointments she needs you to attend. Because this is the bride's choice, it is important to set out expectations. Asking and communicating will help avoid disappointments or overdoing it. Helping with do-it-yourself projects for the wedding is a fun way to spend time with her and help out at the same time for the big day.
Certain brides will pick the maid of honour dress and others will let you decide. I've been asked to choose my own and I find it vital to make sure it is within the colour scope my friend loves and reflects her style. Compromising between a dress that fits your body well but still coordinates with the colour of the wedding is important.  But never forget, what the bride wants, the bride gets. It isn't your wedding.
The bachelorette party and bridal shower are the main responsibilities for a maid of honour. Some family members will want to plan the bridal shower, so it is important to decide with the bride what events you will be planning. The bachelorette party is definitely a tradition for the maid of honour to organize. Some brides want an exciting and loud party in another city and others prefer a quieter event at a low-key bar. Getting pointers from the bride to plan an event that suits her will ensure a good time. Also, avoid the cheesy games. They are irritating and no one wants to hear the forced laughter these games incite.
On the big day, make sure to be fully available to the bride for any last minute errands that need to be done. Being well prepared in advance will help. The maid of honour is the go-to person on the wedding day so the bride can enjoy her wedding without being bothered with the little things. Be an impromptu wedding planner if needed.
Everyone talks about the best man's speech, but the maid of honour's speech is just as important. It is a must-have at the wedding reception. Prepare in advance, because you don't want to get tongue-tied in the moment. Speak from the heart and speak about the positives of both the bride and groom in a personalized manner. I would avoid making fun of the married pair unless it is very endearing- but you know the couple best.
Being a maid of honour is an unforgettable experience and the ultimate test of your friendship bond. Doing a good job will ensure your bride has a memorable wedding day and she will be so grateful if you can be supportive and helpful. This is an important milestone in a great friendship and will make memories for years to come. Also, don't forget the most important part: have fun!
Have you been a maid of honour? Share your tips in the comments below.