Rock n' roll is not dead, at least not according to lead singer of a scrap metal rock n' roll band, Urvah Khan. Women's Post caught up with the female rocker and namesake of the band after her show at Lee's Palace. Khan was sporting a blonde Mohawk and a traditional Pakistani bindi and jewelry.
"Rock n' roll is the sound of an oppressed nation. It is a liberation front for people who don't have freedom. I found my freedom through rock n roll," she said. "I want to spend the rest of my life creating a sound called scrap rock. We build our music from the scraps of what is left behind, and mix it with Indian and south Asian sounds."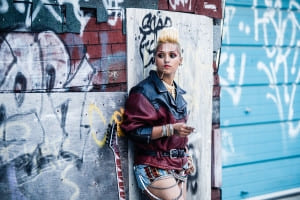 Khan hails from Pakistan and grew up in Dubai. She was 12 when her family moved to Canada. She is a self-proclaimed feminist who firmly believes rock n' roll can help to spread the message of gender equality. She also passionately loves her chosen style of music and believes that you have to truly love rock n'roll in order to make a killer rock song.
Khan got into rock in her early 20's after performing a song with the band The Central Nervous System. She was a rapper prior to this performance, but after listening to N.I.B by Black Sabbath, she fell in love with the music. She also sees rock n' roll as a source of liberation for women in the East.
"I want to make rock music for Muslim girls where I came from. I'm making music for brown women who need to realize freedom is not a choice, it is a right," said Khan. "Why do we have to walk with hijabs for a man to feel good? Why can't we just do it because we want to or we don't want to. As a woman in the West, I can do anything I want. Let's take rock to the East."
The headliner band at Lee's Palace, Old James, believes the message in the music is the key to a great rock song as well.
"Music with a message is what stands out. The difference between our band and every other band is that we have guys that aren't cool. We aren't cool. We are happy being in our band, pissing in bottles, and touring the world. It is about the music."
Old James and Urvah Khan both stole the audience at Lee's Palace, bringing heavy rock melodies to a venue often filled with popular hipster indie bands. Khan is a fascinating artist to watch live and an avid advocate of on-stage energy, even pulling a fan on-stage to "scrap" with her.
"Sometimes when I'm performing, I run out of breath and my notes aren't perfect. My rap isn't perfect but I believe that if my energy is perfect, I can afford to compromise myself," said Khan.
Lead singer of Old James, Brian Stephenson, is an unstoppable force of nature on stage, bouncing from end to end while hitting every note seamlessly. As a fan that has seen Old James perform previously, each show is different and equally interesting to attend, making them unforgettable to watch on-stage. The band also surprised fans by performing new songs from their upcoming album, due to be released later this year. They performed "Speak Volumes", their title track, as well as "Lovefire".
Old James often performs with women and Stephenson was excited that Urvah Khan was on the bill.
"We love her message. She has taken several pieces of different genres and created her own music," said Stephenson. "With women playing and sharing the stage, there is a massive amount of respect. They are sticking their necks out because they have to put up with a lot of crap still. A lot of the attitudes towards women in music are unfair. It doesn't matter what gender or colour you are."
Both Old James and Urvah Khan believe in the power of music with a message. Though their focuses differ, attending a gig where the music is deeply meaningful is inspirational and has the ability to change the world. As it turns out, rock is definitely not dead.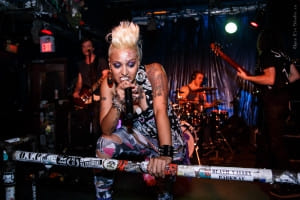 "Rock n roll came from the blues and came out of an oppressed generation of people. Once I found that out, my band and I decided to create the next wave of rock n roll," said Khan. "People say that cannot be because the pioneers of rock n roll are done but I don't agree. Let's take rock to India, Pakistan and to places where women don't know what freedom means."