The hour and a half drive from Vancouver to Whistler was indeed a scenic one. I enjoyed looking at the breathtaking mountain and ocean views along the Sea to Sky Highway route. For the adventure seeker, one can stop in Squamish and take a 10 minute ride up the Sea to Sky Gondola. Once you reach the top there are hiking and walking trails for all levels of abilities.
It was still sunny skies when I arrived in Whistler, a place to participate in many activities from mountain biking and hiking in the summer to skiing and snowboarding in the winter.
My stay at the Fairmont Chateau was a pampering experience because of its luxury amenities with an upscale fitness and health club. There was plenty of workout equipment to choose from to participate in a free yoga class. I choose to relax in one of the three outdoor pools while soaking up the mountain view. I attended the 22nd annual Cornucopia: Whistler's Celebration of Food and Drink this past November.  Every year, the event draws foodies, wine and whiskey experts. It is a two-week event, and a chance to rub shoulders with some of the top chefs from around the globe and learn about fine wine and whiskey. Even though I'm not a wine expert, I felt a warm welcome from everyone. And the events offered were extremely informative.
The first event I went to was called NOURISH: Plant-Based Deliciousness. This workshop offered multi-course tastings. Renowned chef and ultra marathoner Wolfgang Sterr served up a tasty lentil dish. And taught my group  about food presentation. By adding colour to your dish, it looked more appetizing. The lentil dish was not only delicious but colourful.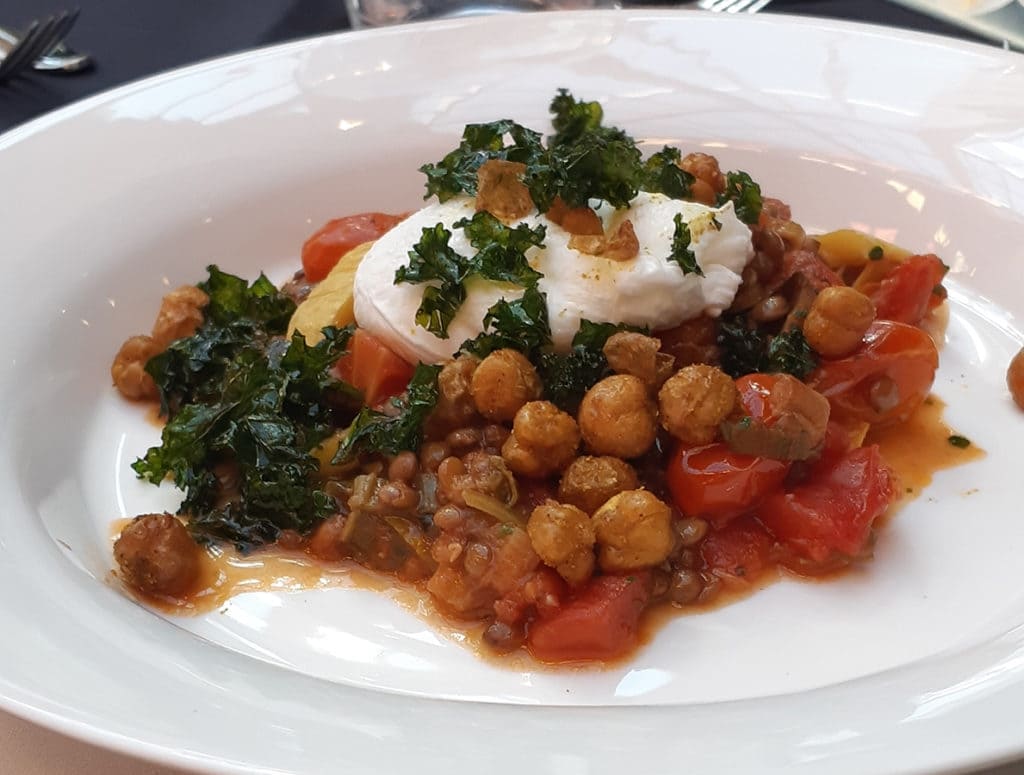 The next stop was the Washington Wine Trade Seminar. DJ Kearney, the Director of Wine talked about the perfect mixing with the old and new world of wines. She was referring to the old world wines in European countries and the new world wines that are produced in countries such as the United States. I enjoyed tasting some of the wines such as the Benchmark Washington State Syrah. Then, there was the Spanish Wines seminar where I learned that Spanish wineries age the wine in barrels or bottles. At Turning Over a New Leaf: Oregon Weird and Wild Wines I was introduced to wines made with unusual grapes. The wine seminars were not only a great opportunity to sample wine but the small intimate groups attending the seminars made it easy for everyone to ask questions.
But by far the highlight was going to the Signature Event: Crush Grand Tasting. The gala was the place to sample some of the best wines in the world, as well as some Whiskeys. I enjoyed being introduced to some of food and wine pairings and it was a terrific cultural learning experience for me.
I had a fun and educational day attending this year's Cornucopia. I watched and learned how some healthy dishes were made by world-renowned chefs.  I recommend this event for those who want to learn about healthy eating tips, and as well as some fine wines. For more information 
https://whistlercornucopia.com/
.