This past week I did some crazy things — I went for a run with pineapple shoes; handed out free coffee at a bus stop; dressed up as a zombie and served people burgers; and modelled a corn husk bikini, among other things.
Why did I do all of this, you may ask? Well, it's because I was a participant of the Greatest International Scavenger Hunt the World Has Ever Seen (also known as GISHWHES).
GISHWHES is a seven-time Guinness World Record breaking scavenger hunt that took place last week, between July 30 and Aug. 6. Thousands of participants from over 100 countries participated in this hunt, performing random acts of kindness, creating beautiful art, and carrying out truly weird tasks. The 178 items on the list varied from sending birthday cards to a young boy with autism, to dressing up as a stormtrooper trapped in the industrial age, to volunteering at a veteran's centre.
Part of the money raised from registering for the hunt goes to the non-profit Random Acts. Many of the items on the GISHWHES list were created in partnership with the organization — encouraging participants to commit to acts of kindness and to do things that would make others happy.
I fell in love with the idea of GISHWHES last year, but was too late to register. This year, not only did I participate, but I led a mostly-Canadian team as captain.
Part of the reason I became so enthralled with this absolutely insane initiative is because it's not geared towards a specific demographic. It's a hunt that is meant for people of all ages and economic groups. It pushes people outside their comfort zones and challenges them to try something different. When was the last time you did something just to see if you could do it? When was the last time you did something that made you feel incredibly uncomfortable? When was the last time you created something beautiful?
As an adult, my life often falls prey to routine. I get up in the morning, do some yoga, go to work, commute home, and then watch television until I fall asleep. I do grocery shopping, go see a movie, take public transit — and I never look up. I don't take in my surroundings or speak to random people on the streets. I keep my earbuds in and walk quickly to my next meeting.
In essence, I have a "normal" life — and that's something that GISHWHES tries to knock right out of you!
The hunt was founded in 2011 by Supernatural actor Misha Collins. The original idea was to have thousands of people from around the world connect to create incredible things and perform random acts of kindness. Six years later, the hunt has grown into an incredible annual tradition, with an uncountable number of people running around doing wacky tasks for the very slim opportunity to travel to Iceland with the founder.
The best part of the scavenger hunt is that it's really not about winning. Rather, it's about the experience. This past week, I had to put myself out there. I dressed in a bikini made of edible materials, despite my body image reservations. I was transformed into a 90-year-old woman using makeup. I made a hat out of socks and a collage from magazines. My team conquered castles, built sand trailer parks, conducted public photo shoots for breast cancer, and placed positive notes on parked cars. Our international team members even made a stuffed panda from feminine hygiene products and drew a face on a skittle!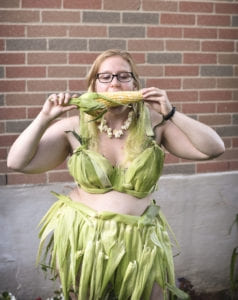 Now, as I say goodbye to my new international friends and return to my work routine, I've noticed a difference. I may still pack my lunch and do my yoga in the morning, but I'm more aware of the world around me. I know its possible for me to spend my time in ways that benefit others as well as myself. I know that I can pull off a two-piece swimsuit and be confident enough to approach strangers on the bus to chat. Not only did I learn that I CAN do all these things, but that I WANTED to do these things.
More than that, I've learned that it's okay to experience child-like wonder as an adult. In fact, it's wonderful!
Thanks GISHWHES!