There is nothing better than a good joke to make the hardships of womanhood feel lighter, and the women who run Comedy on College do just that.
Female comedians are all the rage in entertainment these days, ranging from Amy Schumer to Tina Fey, and Toronto has caught on to the funny female fever.The lead organizers of Comedy on College, a comedy night on Tuesdays at Pour Boy (666 Manning Ave.) are embracing the move towards female comedians wholeheartedly. Heather MacDonald, 30, and Clare Belford, 26, both run the weekly event, balancing the responsibilities between hosting and performing. MacDonald recounts the ambitious tale towards her comedic stardom.
"I started it last June. I have a full-time job and I was sick of going to open mics and staying up until two a.m in the morning. I wanted to be on good shows," MacDonald says. "I talked to the owner and convinced him to let me try it. It has been very successful and in January I asked Clare if she wanted to run it with me."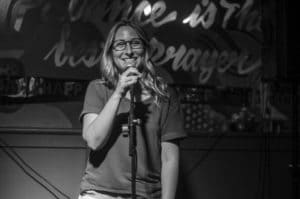 MacDonald hails from the Waterloo region and was in the industry for just over a year when she started Comedy on College. She is an ultrasound technician by day, and enjoys having her own show because it provides much-needed flexibility in a busy work week. Belford, on the other hand, has been in comedy for over three years. She ran a show in her hometown of Edmonton, helping her create a cross-Canada network with other comedians. She serves at a restaurant in the financial district, which occasionally provides material for her comedy set. Both women moved to Toronto excited to pursue their comedy careers in a diverse and progressive city.
The two comedians host a weekly series of local female and male comedians, and look for diversity in their performers. Oftentimes, comedy sets are male-dominated, and Comedy on College has even numbers of both genders performing. Having women performers in the mix adds a range of experiences and perspectives into the various sets. "I think comedy has changed a lot in the past few years and people want to see women performing," Belford says. "I think you lose a lot when you don't have women performing because then you are limiting yourself to one perspective. People in the audience have a good chance of identifying with more people in the comedy show when it's diverse."
It hasn't always been a bed of roses for these two women. Both reported experiencing sexism during a stand-up routine, due to the fact that comedy is traditionally male-dominated.
"One time, I made a joke about being half-Asian, and when I left the stage, a fellow comedian said, "You're half-Asian and I'm fully erect," MacDonald says. "I had just finished my set. I wanted to punch the guy because I felt discredited in what I just did."
Belford had an experience in Edmonton, where a booking agent told her that women weren't funny when she was trying to get a spot in the line-up. "I had a full-on argument with someone who was booking shows that women aren't funny," Belford says. "There was a crowd of comedians standing around me that didn't support me and I floundered in the argument by myself. It was very discouraging."
Women have to deal with performing sets on stage that is often full of rampant over-sexualization of women and the common idea that men are funnier than women. The 10 highest paid comedians in the world make a collective $173 million — and are all men. Comedian Samantha Bee is the only late-night television host, otherwise filled with funny male comedians. These tendencies in the big leagues don't dissuade these two women performers, and several other women comedians they bring on stage each week.
Regardless of gender, both comics believe the most important thing is to put yourself out there, practice, and work to become a talented comedian. "I just want to be as good as I can be. I want to be a very good comic, and I don't care how long that takes me," Belford says.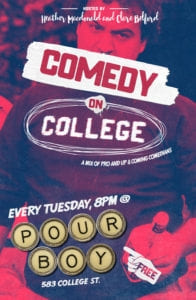 I personally watched both comics on Tuesday night on stage, with MacDonald hosting and Belford performing. It was a hilarious evening. MacDonald began conversations with individuals sitting near the front of the event, and cracking jokes left and right. Belford's comedy routine was a rip-roar from beginning to end. She joked about how difficult it was to finish an entire cabbage when living solo, and the dilemma of going home with a man with no sheets.
I felt I could identify with both women on stage, and discovered a new and great way to connect with other women and shared experiences many of us have. I highly recommend hitting up their show. I guarantee you will walk away laughing to yourself about the hilarious parts of being a woman in Toronto.