Cycling is a healthy and effective way to commute. There is nothing more satisfying than passing by hordes of traffic on a bike after a long day of being in an office. It is also important to know how to navigate safely past the vehicles, and hand signals are essential. Here are a few tips on the most popular hand signals and how to use them properly.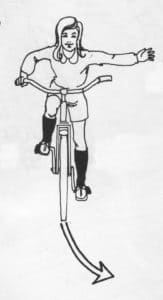 Left turn signal
The left turn signal is pretty straightforward and is useful if properly displayed. When turning left, be sure to stick your arm straight outwards at a 180 degree angle so that vehicles have the best chance of seeing it. This is the bike signal I use the most often when biking because left turns can be dangerous for cyclists. When turning left or merging into a left lane, it is essential to use this hand signal and shoulder check as well. If you are merging over two lanes into the turning lane, be sure to have your hand signal engaged the entire time. Otherwise, for turning left in a heavy intersection, I use the crosswalk instead and do a two-point turn.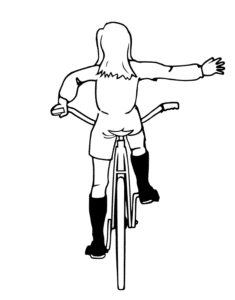 2. Right hand signal (using right-hand)
The best right-hand signal is often debated, but I prefer to use my right hand. In light of left and right turning signals used by vehicles today, using right and left hand signals is more universally understood. Similar to the left-turn signal, make sure to extend your arm at a 180 degree angle to increase visibility to drivers. It can be difficult to see a right-hand signal from a vehicle so be sure to hold out your signal for at least 30 seconds prior to turning. The longer and more emphasized the signal is, the more likely it will be that a driver is paying attention to your turn.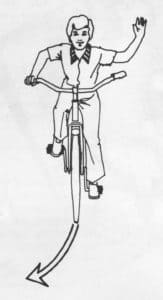 3. Right hand signal (using left-hand)
The traditional right-hand turn signal uses the left-hand. Using a flat-palm, place your left arm at a 90 degree angle. This indicates to cars that you are turning right. Some people believe this hand signal increases visibility, but it seems more often it increases confusion. The hand signal came into existence in the days before vehicles has automatic signals. Drivers would have to use their arms to signal turns, and it wouldn't have been possible to use your right arm to indicate a right turn. Thus, the left-armed right turn was born. Some supporters of this hand signal also believe it is more visible than the alternative because cyclists travel with traffic, so vehicles can see the left hand more easily. It is a hotly debated topic in the world of cycling, but I am personally a fan of using the right-hand. I find this signal outdated and confusing for drivers, which could be dangerous in the long run.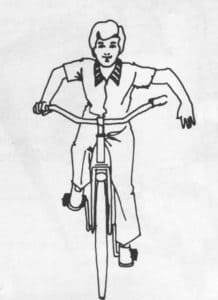 4. Stop hand signal
The stop hand signal is always good to use, especially when there are no stop lights on the roads. It allows the driver to know you are going to stop ahead of time, which helps avoid an accident. I don't use this hand signal very often because cycling lanes allow the flow of traffic to remain fairly consistent between cyclists and motorists, and telling the vehicles I'm slowing down is unnecessary. I also find it to be very awkward on the arm. It is an odd angle to bend at, and feels weird when cycling. Besides its aesthetic properties though, it is always good to have this hand signal tucked away for emergencies.
Bike hand signals help cyclists and motorists communicate and keep people safe. Not using bike signals is disrespectful to other cyclists and can cause accidents between bikes as well. I have nearly hit people who don't signal when turning on my bike, and not doing so definitely warrants angry yelling and hollering from other parties. The bottom line is bike signals are safe, effective and enforce communication between cyclists, pedestrians and motorists. Use your hand signals, and enjoy feeling like a more confident urban two-wheeler.
Note: Riding with no hands is effectively known as the hand signal that means you are having a great time and love cycling more than anything else in the world. Use with caution though, and not in traffic.