"Power is sexy, confidence is sexy. When you have the years behind you, you've been hated, you've been loved, you've loved, you've lost, I think all that comes up to a summation of power. I think at a certain age, women really don't give a shit and that's sexy," said Rama Rau, director of the Hot Doc film League of Exotique Dancers.
League of Exotique Dancers is an inspiring film that teaches women to take their lives and sexuality into their own hands. The documentary is being debuted at Hot Doc's this year by Rau, who felt inspired to make a film about the dancers after seeing them perform at the Burlesque Hall of Fame, an annual festival celebrating legends of burlesque from the 1960-70s.
The film tells the personal stories of several burlesque dancers from that era and hopes to show how older women can still be sexy and confident performers. Rau demonstrates that each of these women has invaluable information to pass on to the next generation of women.
The two burlesque strippers featured in the film are 68-year-old Judith Stein and 69-year-old Camille 2000. Both have over 20 years of experience in the industry and continue to take part in burlesque performances across Canada and the United States to this day.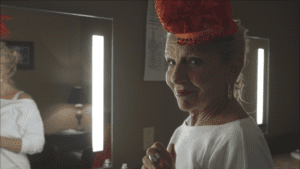 Stein, popularly named "The Grand Beaver of Canadian Burlesque", is a classy woman. She was wearing a flowered scarf and had a open smile, as if she was always on the verge of laughing. Stein began dancing in the 1970's after leaving her hometown in Woodbridge, Ont. to attend the University of Oregon. "I danced mostly in the states for six to seven years and I had a green card. I'm politically active and I got fed up with the Americans and burnt my green card," said Stein. "I ended up in Vancouver as my home base, [but] I worked all over Canada. Mostly in B.C and in Whitehorse." Stein also recalls receiving gold nuggets when working in Northern Canada and Alaska early on in her career.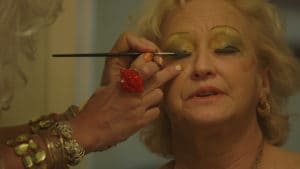 Camille 2000 was a dancer in the southern United States and began her career in a carnival. When she was young, her successes at the tent show led her to Miami, Florida. "They wanted me to become a headliner because I was young and beautiful and tall," said Camille 2000.  "I went down to the Gayety Theatre owned by Leroy Griffith, in Miami Florida. It was also the last theatre I ever worked in. I did a complete circuit around the States."
In the early 1960-70's, there were limited jobs for women and the documentary portrays burlesque as an attractive option for women looking for independence and an opportunity to travel. Stein became a dancer for the freedom, not wanting to "trade her soul and pussy for a wedding ring". The trade was also quite lucrative. Camille 2000 noted that she became involved because "the money was good".
The industry was not always enjoyable and could be competitive because of the money involved. Both strippers said that women would beat each other up, put cut-up glass in make-up, pee on costumes to ruin each other's shows in an attempt to make more money. You had to be tough to survive in the business. "It was competitive but they also taught you everything. Older strippers would say "try this hunny or try on that". There was always the odd one who is insecure, and wasn't sure of themselves, but most weren't like that," said Stein.
The documentary followed the downfall of burlesque with the emergence of pole dancing and live nude performances. "I think burlesque dancers tell a story. They had 20 minute acts. They had these elaborate costumes and yes, they would peel, but I think today's strippers go right to it," said Rau.
"It was hard in a theatre to follow porn acts," Camille 2000 said. "When I first started we had to wear G-strings and pantyhose, towards the end of my career you had to start taking everything off because you had pole dancing. Live nude dancing and pole dancing ruined burlesque."
League of Exotique Dancers reflects on the strength, humour, and kindness of these burlesque legends and the fall of the industry they loved so much. The film is absolutely worth seeing.
League of Exotique Dancers premiered on Thursday, April 28th at Bloor Hot Docs Cinema at 9:45 p.m. and will be playing again on Friday, April 29 at 1:30 p.m at the TIFF Bell Lightbox. It will be screening after May 20.