Do you want to know about a secret get-away spot in the mountains with great french beers and fresh air?
I recommend heading to Mont Tremblant National Park in Quebec to find your wild soul within. I felt I needed to get out of the big city and find some peace and quiet, and this French destination was the perfect place.
I rented a car, packed up clothes and snacks for my family, and hit the road. I stopped over in Ottawa to visit Parliament Hill  and to eat a beaver tail before heading further east to the Laurentian Mountains. Mont Tremblant is a popular destination for skiing and snowboarding in the winter and rock climbing, canoeing, and hiking in the spring and summer.
This string of mountains is located approximately two hours east of Ottawa, six hours from Toronto and one hour from Montreal by car. The Laurentian mountain range is one of the oldest in the world and there are over 9000 lakes in the area. An abandoned railway line, la P-tit Train du Nord runs 230km from St. Jerome to Mont-Laurier and is one of Canada's longest linear parks used for cycling, hiking, and cross-country skiing.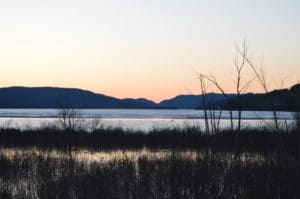 We drove into Mont Tremblant wearing our city attire and quickly changed into warmer clothes and shoes. Initially, the town seemed unimpressive until we drove up the hill and witnessed the lake and mountains at sunset. The Mont Tremblant village resembles a fantasyland with cute cottages surrounded by the mountains. The village was impressive from afar, but the businesses were mostly corporate, which was disappointing. I had hoped for authentic Quebecois shops that reflected the history of the area, but it was more of a commercialized resort.
We quickly moved on to the National Park, located 30 minutes to the east of the town, and headed to the Discovery Centre. It was a building that had friendly bilingual staff, trail maps and information, filtered water and coffee, and washrooms. We set off on an 11 km hike and reached the viewpoint called La Roche in about two hours. The path was well set and there wasn't too much foot traffic.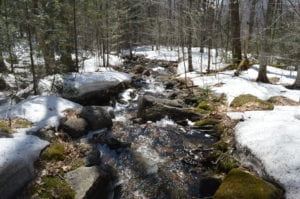 We enjoyed the top of the climb by eating dark chocolate and trail mix while looking at the Laurentian Mountains for miles down the valley. The view as incredible and it was peaceful being away from the noises of city traffic and sirens. There was still snow on the ground and I recommend wearing boots and winter gear if hiking in April or early May. On the way down the hill, my cousin and I took both hands of my five-year-old and we slid all the way down on the snow. It was an enjoyable experience and my daughter laughed the whole way down.
Mont Tremblant is an easy getaway for nature lovers and in its peak months, is full of activities to do. Though I visited off-season, it was calm and quiet, which is exactly the escape I was craving. It is important to show children the value of natural excursions and I got to witness how happy my daughter was when she is in the outdoors. I will definitely be back to camp, hike, and rock climb in the warmer weather and I hope to see you there with your family and friends.
Do you have a favourite getaway spot within six hours of Toronto? Let us know in the comments below.