Violence often leaves women feeling numb. That is how it felt for me. Slowly but surely, some people learn to feel normal. Others feel constantly hurt and then one day, they may not feel at all. Though emotions can be cumbersome, not having them is hauntingly worse. The moment arrives when you have finally found a safer place in your life, escaped the violence you once lived in, and you want to feel emotions. It becomes essential to feel again, but how can you?
Toronto Newsgirls Boxing Club gives women a safe way to take control of their body and begin the process of feeling again. Located in one of the industrial buildings on Carlaw, just north of Dundas, the boxing gym features images of strong-looking women boxing in a modest studio, with a a ring and several gym bags surrounding it. Immediately upon entering the gym, the coaches and participants are welcoming and warm. I felt at home right away.
Three women began Toronto Newsgirls Boxing Club 10 years ago to help those who had experienced violence using trauma-based boxing. Owner and coach Savoy Howe, along with Associate Professor of Kinesiology at Brock University Cathy Van Ingen, and Opportunity for Advancement Executive Director, Joanne Green, founded the Shape your Life program (SYL) within the club.  This program is designed to help women who have experienced trauma find a connection to their bodies once again through exercise and empowerment.
"The big thing is it is a safe space. It is a space to ensure everybody is welcome and everyone is safe," Van Ingen said. "That is the biggest thing and we know that women need to feel that their bodies are in control."
On Nov. 25, also known as International Day for the Elimination of Violence against Women, Newsgirls announced that the SYL program would be receiving $420,000 from the Public Health Agency of Canada.  The Prime Minister himself sent the boxing studio a video of congratulations and support.
@newsgirlsboxing I'm sorry I couldn't be there today. I'm in your corner & hope to train with you soon! À bientôt. pic.twitter.com/AiZtkAUsDS
— Justin Trudeau (@JustinTrudeau) 25 November 2016
One of the rare and amazing things at Newsgirls is the community and support network that Howe has managed to create with the other coaches and women who participate. The gym is not only a place to box, but it is also a safe haven where these women can really be themselves. Women participating in the SYL program will learn boxing techniques, which can help reconnect them with their bodies in an empowered way. Being able to embrace anger in a controlled manner using your own body is a helpful tool in the healing process from domestic violence. The program also provides TTC tokens, free food, and endless amounts of support from the coaches and women who attend.
Program Coordinator, Tania Jivraj began SYL 10 years ago as a participant in the first pilot program and now helps to run the program today. Jivraj is one of many examples of women that are forever changed from taking part in the trauma-based boxing program. "It turns out I like hitting stuff. It turns out I'm good at hitting stuff. It turns out I am angry, I'm a fighter, I am vulnerable, and I am strong," Jivraj said. "Ten years later, I was hired as the program coordinator and I get to work every day with strong, vulnerable women."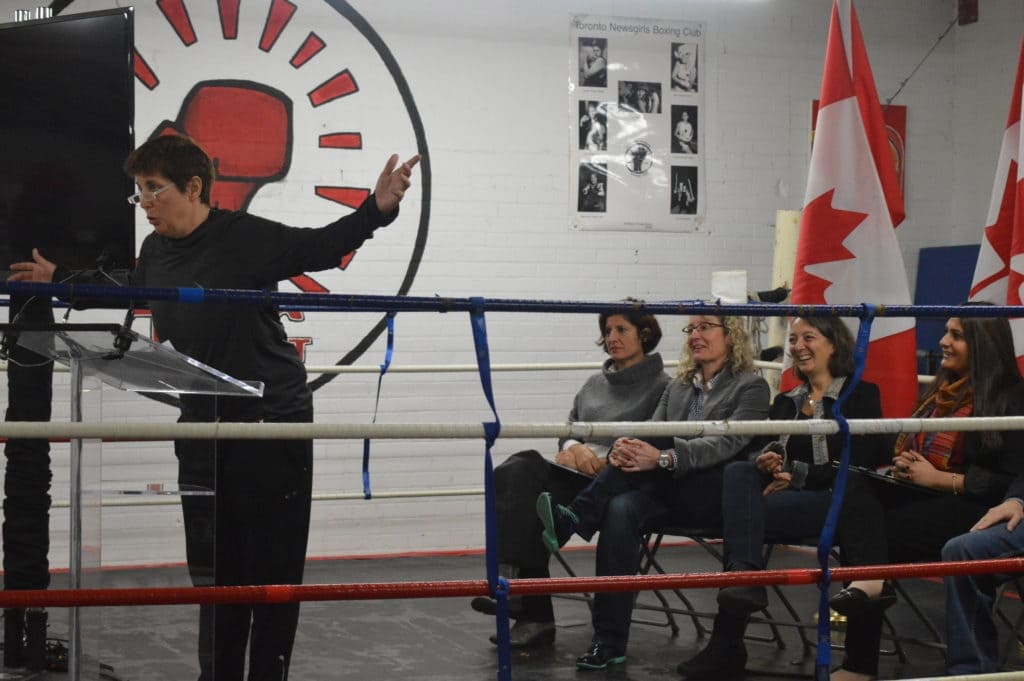 Newsgirls will use the federal funding to collect data from the next six groups of SYL and then create a trauma-based boxing manual to be implemented in other gyms across the country. "Our goal for Shape your Life is to implement in other regions of Canada as well as around the world," Howe said. By researching and collecting the stories of women who participate in the program, it will allow the women at Newsgirls to make an effective and life-changing program to combat the damaging impacts of violence against women.
On a personal level, the program's new funding allows me to continue attending and growing as a recovering woman who has a desire to reconnect with her emotions and body. I have a long way to go to deal with my own inner battles and boxing is the first step. It takes courage to put on boxing gloves, and it is truly empowering to see other women show their anger in such a constructive and open manner. I look forward to continuing my journey in learning to fight for what's really important in life.