We have a beautiful set of old wicker furniture that was built to last. The quality of the craftsmanship is excellent and the idea of throwing away anything that can be restored has never sat well with me.
The key to restoring furniture is finding a good upholsterer. I discovered Worth Upholstery in Bracebridge. Mary Henderson, the owner, is fantastic and does everything from marine and auto upholstery to furniture repairs, refinishing and revitalizing old furniture, and creating custom built furniture.
And she is FAST!
In just two weeks, I was able to get the entire wicker set reupholstered.  We had tried getting it done a couple of years ago, but the cushions came back far too hard and small, and we soon found that we didn't use the furniture as much.  But now, with the new cushions made for comfort, I am happy to report that in the past four days we have played games of Apples to Apples, Settlers of Catan, and Spite & Malice all using the wicker furniture set.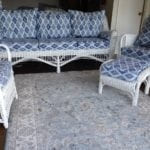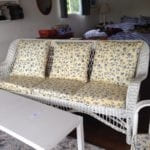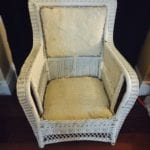 A big THANK YOU to Mary Henderson of Worth Upholstery for doing such a fabulous job on our wicker furniture set.
And if you have any spare foam from pillows Mary will take it, clean it, and make it into dog cushions – with all the proceeds going to Sick Kids Hospital. Please share this with your friends and support a wonderful, strong and dynamic woman who is making a difference. Her contact information is:
Mary HendersonWorth Reupholstering
705.205.2777
WorthReupholstering@gmail.com
Facebook; Facebook.com/groups/WorthReupholstering