What if you could grow food year-round instead of being limited to spring and summer planting seasons?
Boks Farms Ltd., based out of Calgary, may have a solution to the limited growing seasons in Canada. By turning train shipping containers into portable greenhouses, the company is revolutionizing the way people think about food. The company is taking urban farming to a new level by making indoor greenhouses that can be run year-round.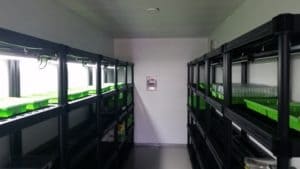 Owner Mark Van Engelen began Boks Farms after studying what other companies were doing worldwide in regards to indoor urban farming. He came up with a building strategy to fit the cold Canadian climate. "A few years ago, I decided I needed to do something to make the world a better place. One of my interests is food and another one is energy and biodiversity. This is my contribution to the food system, to do something local," Van Engelen says. "Urban farming has a two or three month growing season and the rest is canned. We want to help Calgary and Canada grow as well and eventually free food for people in need."
So how exactly does a greenhouse made out of a shipping container work?
According to Head of Operations, Ben Pearson, it is a step-by-step process. "After taking a shipping container, we retrofit it with materials and insulate it so that it doesn't have any moisture to effectively create a four-season container," Pearson says. "For ventilation, we have one intake at the front and one outtake at the back so that air is constantly in circulation and moving." The units are also outfitted with an air conditioner and heater to control the temperature. The containers use LED lights, but will move to solar panelling in the fall, explained Pearson. This will make the container 100 per cent portable and off-the-grid.
Boks Farms is providing food grown in the greenhouse containers to local restaurants, including Calgary favourites Mercato, Wildrose Brewery, and the Coup. The company is also launching in Edmonton next summer. Van Engelen offers homemade greens, mushrooms and herbs to these restaurants and hopes to expand the business to more remote northern communities as well. "What I envision in the future is to replicate this model up north. With all the materials, we would be helping people have access to fresh food year-round," Van Engelen says. "We would provide a form of consulting and help build the local systems."
Van Engelen hopes the company will become a local systems food provider as well as a greenhouse educator. Originally in the environmental consulting business, the entrepreneur also founded an educational company called Earth Educators that helps organizations measure their environmental impact and develop strategies to be more sustainable. He hopes to fuse the teaching aspect of this non-profit to Boks Farms, and help remote communities learn how to sustain local indoor farms in the portable greenhouses year-round.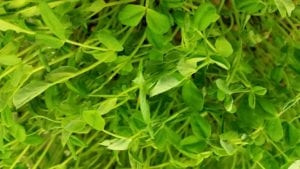 The shipping containers used to make the greenhouses are also sustainable and promote the recycled use of environmental materials. By re-using old shipping containers and refurbishing them, it uses a product that would otherwise sit unused in a train shipping yard for decades.Van Engelen hopes to have the shipping containers completely off the grid soon, and only needs to get solar energy installed in the containers for that to happen. "From an energy perspective, getting off the grid is important," Van Engelen says. "We are using LEDs where it makes sense. My key thing now is to use solar. It doesn't use that much, and soon we should be able to be 100 per cent renewable."
It is commendable to see such an environmentally-progressive initiative being launched in Calgary, a city often known for embracing fossil fuels instead of crunchy granola. By providing an opportunity for local indoor urban farming, it gives Calgarians an opportunity to enjoy local produce year-round and support the sustainable farming of food that could help thousands. It will be enjoyable to see where the company goes next, and I look forward to trying fresh herbs grown year-round.