When Slate Asset Management purchased 1 St. Clair West, they knew they had to do something about its 12-story blank wall. The company started to look into public art, with the goal of making the corner of St. Clair and Yonge into a cultural and vibrant community.
"The neighbourhood has been overlooked for a while. It has stagnated," said Lucas Manuel, Managing Director of Slate Asset. "We are trying to make impactful changes and in real estate that takes time. This is a great first step."
Now, a year later, that very same wall is covered in paint. The mural, which was designed and painted by international street artist PHLEGM, whose work can be found throughout Europe, Australia, New Zealand, and the United States. Toronto can now be added to the list.
The international project was funded by StreetARToronto, a city program that finances public art in an effort to revitalize and engage neighbourhoods. They fund a single international project a year and chose to invest in the Yonge and St. Clair community.The piece was commissioned back in October in partnership with the STEPS Initiative, a charitable organization that melds urban planning with public art.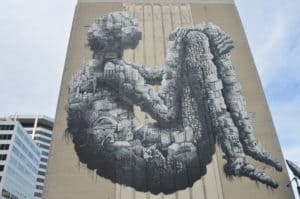 Wednesday marked the official reveal for the mural, which now covers nearly the entire eastern-facing wall. From afar the image appears to be of a human figure, huddled over in contemplation. But a closer look exposes a number of smaller images within the figure showcasing different elements of Toronto. The CN Tower, St. Lawrence Market, and, of course, the green spaces that weave in and out of our neighbourhoods.
St. Clair and Yonge is one of the highest points in the city, so the artwork is representative of the majestic view of the Toronto skyline as seen from that specific intersection.
According to Alexis Kane Speer, founder of the STEPS Initiative, the organization took part in a number of public consultations to make sure the piece, while being designed by an international artist, was representative of the city they love.
"We tabled in the local library, we did a lot of online surveys, talked to people at bus stops – asking people what they thought of when they heard Yonge and St. Clair and this city.," Speer said. "We also collected a lot of images of the city and fed them to PHLEGM and he came up with this design."
"For [PHLEGM], the city is a living breathing organism. It's a reflection of all of the people living here currently as well as the people who lived here over time."
PHLEGM was assisted by emerging Toronto artist, Stephanie Bellefleur. It was her job to brave the heights and do the initial background painting using a swing stage. According to both Bellefleur and Speer, there isn't a lot of female representation in this type of artwork. Most swing stage work is performed by men.
"For me, it's a big accomplishment and to be a part of the process, I felt really honoured," Bellefleur said. "Being a woman, it is very empowering because street art is very male dominated and for us women it allows us to be entrepreneurial to be strong and independent and make a difference in the world — a positive one."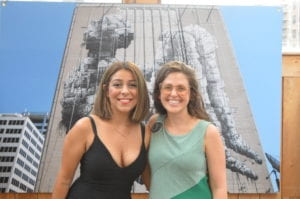 Bellefleur will be working with the STEPS Initiative as the assistant for a number of different artists. Her next piece of work will soon be found at COSTI Immigrant Services near Bathurst and College St. The mural will illustrate stories of immigration that have been generated by community members.
"I enjoy public art because I believe art is for the world," she said. "I believe art is for everyone and it brings a great sense of interconnectivity. I think that just by having a conversation like "look up there", it brings you together."
For more information about STEPS Initiative, visit their website.