Gingger Shankar is a singer, violist, and composer. She comes from a musical family and has toured the globe for a long time. With a couple of film scores already under her belt, fans can now look forward to Shankar's own project, Nari, which celebrated its world premier at the Toronto International Film Festival. The film captures the story about the singer's mom and grandma and their involvement with the huge Indian music explosion into the West in the 1960's and 1970's with George Harrison and Ravi Shankar.
When and why did you decide to be a singer?
I grew up with music my whole life. I can't even tell you when it started. I just remember being around a lot of concerts, being around musicians and rehearsals. I think it was sort of natural that I became a musician. I don't think I could've been anything else.
You're the only woman in the world that plays double violin! What sparked your interest in learning how to play it?
The double violin is an instrument that covers the whole orchestra range. It covers the piano, viola, bass, and cello. The reason I wanted to play it was because I travel to a lot of music festivals travelling and with a violin, viola, and trying to take everything was really difficult. I wanted one instrument that covered the whole range. The double violin did this and it's amazing because it has a very unique sound to it and it covers the whole orchestra range. I've been playing it for over 10 years. It's a great instrument to sort of use for live performances and my film scores.
Tell me about Nari.
It's a short film documentary and performance piece. So altogether, it's a multimedia piece. My grandmother passed away a couple of years ago. And she gave me these scrapbooks. I knew [my mom and grandma] were part of the music scene at that time but I didn't know how much. Once I knew they were on every record cover, and they recorded music, conducted orchestras, sang, and travelled, I knew there was a story to be told, especially as women. I think sometimes women get overshadowed by the men so it was important for me to tell their story.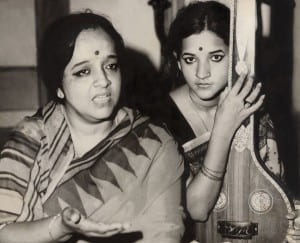 What was your thought process during the making of this project?
I was talking to my partner during this project, Dave Liang. He's from the Shanghai Restoration Project. We had worked on another project before. I was telling him about these scrapbooks and he immediately looked at me and said "You have to do something with them!" We started on this journey together and then we brought on our artistic director, Yunfan Sun, who took these beautiful photographs and started animating them. It really started from the music, though. We had these recordings of my mother which had never been released and they were so beautiful. We started remixing them and building a whole new record out of them. It was from this that the whole project sort of came about.
How was the experience of bringing Indian influences into Western culture?
It's basically North and South Indian culture. We were really lucky because we had talked to Cameron Bailey about this project, as well as Nobu Adilman. He completely got the music and knew what it was about. There's also a very large population of South Indians in Toronto so we were welcome with open arms. It was very exciting.
Who are your musical inspirations?
My mother is probably my biggest musical inspiration. I also listen to a lot of Indian and Western music. I love Madonna as much as I love a classical Indian artist.
Any upcoming projects for your fans to look forward to?
Yeah! I'm currently working on my own eclectic pop record called Beautiful Imperfections. We're starting to do a lot of shows on that and it will be released early next year.
Follow her on Twitter @GinggerShankar!