So you're single, huh? Another year, another day of love spent alone. It's nothing to be ashamed of. There are plenty of things to do on Valentine's Day, whether you're with someone or not. We've created a list of super easy things you can do to feel the love, even if no one else will feel it with you.
Invest in a body pillow
Without the warmth of a significant other's body cuddling yours, the night can get rather cold and lonely. You don't need someone else's hands to keep yours warm. Invest in a body pillow – they can be found at your local departmental store. The pillow is large enough to let you cuddle it in its entirety, leaving you no chance to miss real love. Your laptop can be used to stream a movie starring your favourite actor. We suggest someone in the likes of Ryan Gosling; a man that will surely never fail to make you warm inside.
Netflix and Chill
If you're down with the lingo, you know by now that Netflix and Chill means to engage in the act of coitus. As in to have sex. However, with the lack of a person to do the deed with, you may find yourself in a little problem. So, take power and change the meaning of North America's favourite phrase. You don't necessarily have to have sex to Netflix and Chill. Grab a bunch of your other single friends and indulge in the beauty that is Magic Mike. Want a good laugh? 50 Shades of Grey is always a good choice! (Sorry, not sorry) Keep it light and avoid usual single go-to's such as The Notebook. Don't forget your calories – popcorn and chocolate are a must.
Wait till Monday
The day after Valentine's might as well be the best day of the year. All those fancy boxed chocolates and love themed items go on sale for at least half the price.  The best part of purchasing these yummy goodness is that you don't even have to share! Better yet? Fill your home with the wilting flowers from your local grocery store. There's just something extra heartbreaking about dying flowers, right? Dry them out by leaving them in the dark or hanging them upside down. The DIY potpourri will have your house looking colourful and smelling great.
Date Yourself
Love yourself first! Make sure your comfortable getting lost in your old world and being left alone in your thoughts before you get lost in someone else's. Take the time to get to know yourself. Do what you love to do most without having to worry about pleasing anyone else. Whether that's indulging in your favourite movie, attempting to perfect your adult colouring book masterpiece, or throwing a dance party – the act of masturdating will never leave you disappointed.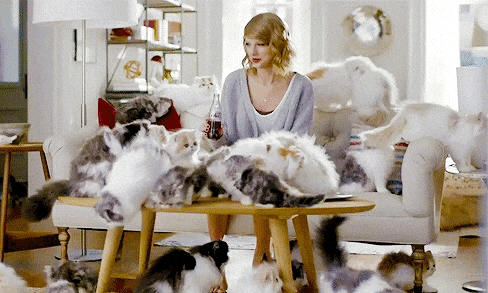 Get cats
Cats may not be able to cook you dinner or get you that bracelet you've had your eye on, but they can give you the cuddles and love you've been looking for. Studies show that furry friends can alleviate stress and turn your ice cold heart into a warm glob.  Not a cat person? Choose from the plethora of other pets that you can domesticate! Dogs, birds, rabbits, a turtle are all excellent options. Pet it, feed it, and watch it sleep. These loved one will never leave the toilet seat up. And to that we say, thank you.
Don't Be Sorry
Stop feeling sorry for yourself. Being single isn't the end of the world. In fact, think of all that stress you don't have to feel by not worrying why he/she hasn't called you back yet, whether or not they'll like your gifts, how you'll pretend to like theirs. Even if you're ready to be in a relationship or if you haven't got the time for it in your life right now, what's important to remember is that your Mr. and Ms. Right will show up at your door step when the time is right – whenever that may be. Till then, keep doing you. Because you are great, my friend.
Let us know if you try anything from our suggestions this weekend. Don't forget to leave a comment below. Happy Valentine's Day, ladies!
Love,
Women's Post