Former Olympian champion Bruce Jenner made his debut as a woman today on the cover of Vanity Fair magazine. The cover is currently going viral on the internet and we know exactly why! Whether it's the brunette locks, her fierce expression, or those super toned legs, Caitlyn Jenner completes every criteria of the modern day bombshell.
Just a few months ago, the reality star sat down with Diane Sawyer, still known as Bruce Jenner, in an emotional 2 hour interview, coming out as a woman. Now referred to as her, this is Caitlyn's first public appearance since the interview and transitional surgery. It is confirmed, however, that Jenner has not yet gone through genital surgery.
"If I was lying on my deathbed and I had kept this secret and never ever did anything about it, I would be lying there saying, 'You just blew your entire life. You never dealt with yourself,' and I don't want that to happen." Jenner stated in the 22 page cover story, on newsstands June 9.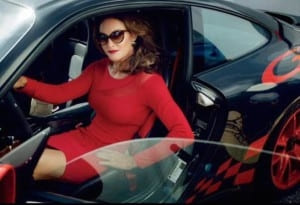 Caitlyn Jenner took to social media to tweet from her new account "I'm so happy after such a long struggle to be living my true self. Welcome to the world Caitlyn. Can't wait for you to get to know her/me." Celebrities, friends, family, and her fans also tweeted out their support and commends Caitlyn for her bravery.
It's no doubt the 65 year old has become an overnight icon for the transgendered community. She joins the list of other transgendered celebrities such as Sonny and Cher's son, Chaz Bono and former Miss Universe contestant, Jenna Talackova. We're looking forward to seeing what more Caitlyn has in store for us. 
Although North American society is quickly becoming more welcoming towards the LGBT community, it's evident that the 'T' is often overlooked. Like Jenner, there are still many people out there who are struggling to come out as transgendered. If you or someone you know needs help with any transgendered related issues, visit http://www.translifeline.org/.